Cenk Uygur Defends Al Sharpton Against Howard Kurtz: 'God Bless Rev. Sharpton'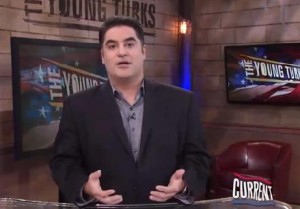 Over the weekend, Reliable Sources host Howard Kurtz slammed MSNBC for allowing Rev. Al Sharpton to cover the Trayvon Martin story, while leading rallies and protests at the same time. Rev. Sharpton picked up an unlikely ally Tuesday night, as The Young Turks' Cenk Uygur, who has been sharply critical of The Rev in the past, came to his defense, saying "God bless Rev. Sharpton. He's bringing to light an issue that needed that light, that needed that attention."
Kurtz's criticism of Rev. Sharpton centered around Sharpton "having it both ways."
"It seems to me," Kurtz said, "MSNBC can say, 'Okay, this is such an important case you can go and be an activist and you won't do your show on the subject. Or you can do your show on the subject but don't be standing with the parents at the rally and accompanying them to the Justice Department.'"
Cenk notes that Kurtz's criticism was echoed by Fox News' Bill O'Reilly, and pointed out the advocacy of Fox News personalities for the Tea Party. He also explained that , to some degree, all news hosts have opinions, they make judgments about which stories are important to cover. "What's important," he said, "is that you not do propaganda for one party or another… You should be advocating for your own ideas and your own philosophy."
He reiterated his past criticisms of Rev. Sharpton, but said "In this case, God bless Rev. Sharpton. He's bringing to light an issue that needed that light, that needed that attention."
He also had praise for his former employer, despite their unpleasant parting. "This is a terrific thing that he is doing," Cenk said, "and MSNBC is supporting him."
Cenk finished up with a shot at the at times high-handed CNN, saying "We're not supposed to be neutral robots — that's for CNN. We're supposed to care about the issues. Rev. Sharpton cares deeply about this issue, and I agree with him."
I agree, also, that Sharpton's activism in the Trayvon Martin case, like Ed Schultz's support/coverage of the Wisconsin protests, and even some Fox hosts' Tea Party cheerleading, are fine, and even welcome, under two conditions.
The first is that they be clearly labeled, which Al Sharpton's definitely is. One of the big controversies surrounding his hiring was that he is not a journalist. His show doesn't pretend to be a newscast.
The second condition is that they be held to the same standard of accuracy as the network's other shows, which is the stated policy of MSNBC, but not of Fox News.
In cases like Trayvon's, advocacy journalism, done honestly, can provide added value that traditional journalism doesn't, such as a more acute familiarity with the subject matter, and a perspective that can discover things that others miss.
Here's the clip, from Current TV's The Young Turks:
Have a tip we should know? tips@mediaite.com