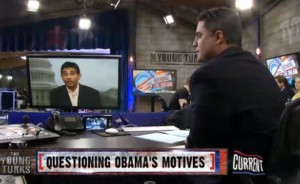 Author Dinesh D'Souza, whose The Roots Of Obama's Rage is the basis for the newly-released hackumentary 2016: Obama's America, is making the rounds to promote the film. On Tuesday night's The Young Turks, host Cenk Uygur confronted D'Souza with the facts behind the film's deranged view of President Obama, and asked him why he never complained about the George W. Bush policies that exploded the debt, and that President Obama is still paying for.
Credit D'Souza for submitting himself to an interview with a progressive outlet, and an aggressive progressive host, but he didn't bring much else to the fight. Uygur began by challenging D'Souza on the defense budget. "The US military budget is now $695 billion, China is number two at $120 billion," Uygur said. "We are about six to one ratio over our closest competitor. Jesus, how much money do you need we have to spend on nukes and defense spending before your friends, who are defense contractors, are happy enough?"
D'Souza ducked the question, changing the subject to the deficit. "Well first of all, domestic spending has been growing promiscuously under Obama," he said. "He has added $5 trillion to the national deficit. If he had a second term, you can assume he will add $5 trillion more."
Uygur pointed out that "a great majority of that was left over from the Bush administration….He left a $1.2 trillion per year when Obama came into office. That is because of the giant tax cuts that your friends got – the excedibly rich – that's because of the giant defense contracts that your friends got, because of the oil subsidies, because of the wars in Iraq and Afghanistan. That you were in favor of. That the entire Republican party was in favor of. $1.2 trillion a year left by Bush."
D'Souza later tried to revise history by claiming Bush never turned in a deficit of over $1 trillion. "The largest Bush deficit was $500 billion dollars," he claimed. "The lowest Obama deficit is $1 trillion. Untrue? "
"Untrue," Cenk responded. "When Obama got into office, Bush left him a $1.2 trillion dollar deficit in his last year."
"His last year?" D'Souza said. "You mean 2009?"
"2008," Cenk responded.
"In 2008, America's deficit was under $500 billion dollars. It was Obama who carried that on to an over $1 trillion deficit in '09," Claimed D'Souza.
"You're saying that when President Obama got into office that the deficit was $500 billion, when in fact everyone acknowledges it was $1.2 trillion, is that the claim that you are making?" Cenk asked.
"Wait a second, we are talking about a carry over year," D'Souza replied. "You're basically trying to saddle Bush with Obama deficit."
The facts, not surprisingly, are not D'Souza's friends. For the fiscal year ending in September of 2008, the federal budget deficit was just over a trillion dollars, adjusted for inflation. For the "carry-over year" ending in September of 2009, the deficit was $1.8 trillion dollars, which included mandatory spending that Bush put in place, and the stimulus that halted the Bush slide into oblivion.
D'Souza did get one fact right. His film is actually doing relatively well, having just expanded into 169 theaters, and averaging a respectable $7,365 per screen, with a domestic gross of just over $2 million in limited release. The film is partially financed by TD Ameritradebillionaire Joe Ricketts, who infamously commissioned a strategy memo that sought to launch a race-based attack on the President by resurrecting the Rev. Jeremiah Wright story.
Here's the interview, in two parts, from Current TV's The Young Turks:
Part 1:
Part 2:
Have a tip we should know? tips@mediaite.com