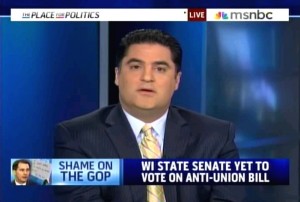 President Barack Obama's response to labor protests in Wisconsin hasn't been forceful enough for many political leaders in his party, but what's likely the most scathing critique the president's received for his actions (or lack thereof) came earlier today via MSNBC's Cenk Uygur. Uygur lambasted Obama for not showing more solidarity with the workers – even though back when he was running for president, he vowed he would.
Indeed, for Obama the most damning segment was a clip Uygur played of him campaigning in 2007, in which Obama said the following:
"If American workers are being denied their right to organize and collectively bargain, when I'm in the White House I'll put on a comfortable pair of shoes myself – I'll walk on that picket line with you as President of the United States of America."
Aside from wondering why Obama was seemingly having such a difficult time finding a suitable pair of shoes, Uygur criticized him for not voicing enough words of support for workers, either…as well as White House Press Secretary Jay Carney, whose remarks about everyone needing to "live within their means" he called indistinguishable from Republican talking points.
Uygur did say that Obama "isn't the problem," but not without some harsh words for a perceived unwillingness to lead:
"He's never gonna put on those walking shoes. He's not gonna get out there and lead. That's not what he does; it's not who he is. He's a careful, calculating politician."
Video of the critiques of Obama, via MSNBC.
Have a tip we should know? [email protected]
---