Cenk Uygur On His Current TV Show: Wanted A Place Not 'Encumbered By A Media Conglomerate'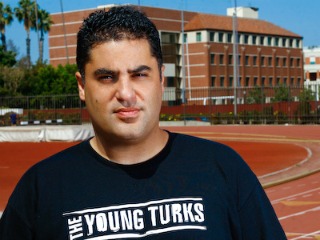 Cenk Uygur is joining his fellow former MSNBC veteran Keith Olbermann and heading to Current TV. Uygur's new show, The Young Turks, will be an original televised news program airing every weeknight at 7 p.m., capitalizing on the success of his internet talk show of the same name.
Current TV co-founder Al Gore has said that Uygur and his collaborators "have exploded in popularity because of 'The Young Turks" authentic and passionate voice." Uygur himself adds that he's excited to join the network, calling it "the perfect home" for his show and… What's this? A subtle dig at a certain cable news network, perhaps?
We wanted to be in a place that is both independent and truly progressive, not owned and encumbered by a media conglomerate. Does it get any better for a progressive than working where Al Gore and Joel Hyatt are your bosses, and Keith Olbermann is your colleague? It's an honor to be the lead-in program for Keith Olbermann. Add to that we will work with David Bohrman, who has been creating unique and great television programming for decades. His vision for Current is exactly in line with ours. When you bring all of these people together with 'The Young Turks,' watch out — we're coming!
Uygur, you'll recall, ruffled more than a few feathers over the summer when, after losing his spot on MSNBC's evening lineup, he suggested to Olbermann that the network "trades honesty for access."
His new show will be produced at a Los Angeles-based studio and is set to launch later this year.
Have a tip we should know? tips@mediaite.com