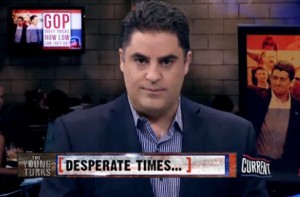 While things aren't looking great for Mitt Romney, it may be a little bit early to start dancing on his grave. However, The Young Turks' Cenk Uygur, after calling the election for President Obama last week based on widening margins in battleground polls, is fairly krumping in the cemetery over reports that Republican donors are abandoning Romney in favor of protecting downballot races, a phenomenon which Cenk predicted shortly after the release of Romney's now-infamous hidden-camera fundraising video.
"Ladies and gentleman," Cenk began, gleefully, "It appears we've got 'em. Last week I predicted that the race was over. But before that, if you watch this show, you know that on September 19th, I made a different prediction. That not only would we believe that but the Republicans would believe it and act in accordance."
After a clip of his prediction, Cenk played a recent Fox Business report by Charles Gasparino, in which Gasparino talks about (unnamed) Wall Streeters "big money guys" who are telling him they're starting to divert their money from Romney to House and Senate races.
"There you have it," Cenk said, "on FOX Business saying, it is over, they are diverting the money. We were going to count for you, how many days it took before the Republicans gave in. It turns out, it only took 14 days after the tape was released, showing Mitt Romney's 47% comment."
Cenk also went over the uphill battle that Romney faces  in gaining the electoral votes needed to win, in particular, an Associated Press analysis that shows that "in order for Mitt Romney to win, he would have to switch all these states. He needs Florida, and Colorado, and Nevada, and North Carolina, and New Hampshire, and Virginia, and either Ohio or Iowa. But he's not going to win any of those states."
"Divert the money, divert the money," Cenk concluded. "Right now, they are running for the hills."
As always, I'm going to urge calm. A lot can happen in five weeks, a lot more than in previous elections, and this is not an election like any other. For President Obama, Gasparino's report is good news, even better when you look at his column. While his FBN hit seemed to indicate the trend is a New York area thing, that's apparently not the case:
The trend isn't at the acute stage, at least not yet, said one person with direct knowledge of the matter. This person, a major player in Romney's New York fundraising circles, confirmed to FOX Business that a few New York donors have backed away from financial commitments to the Romney campaign and instead said they will spend their money to help the Republicans hold on to the House of Representatives, and pick up seats in the Senate.

But another person with direct knowledge of the matter says the trend, though nascent, is more geographically broad based, and reflects an increasing degree of anxiety both with what they believe is the tentative nature of the Romney campaign, and recent poll numbers that show President Obama with a lead, particularly in key battleground states, that some Republican contributors are starting to believe is insurmountable.

"This isn't just a New York trend," this person said. "It's beginning to occur all over the place."
So, while the trend is supposedly wider, it's also "nascent" and based on a bunch of blind quotes.
It's also not clear what difference campaign cash makes at this level. As the Obama campaign has demonstrated, once you get past a certain threshold, you can only buy so many ads in the handful of states in play, and this campaign could end up being decided by a video that cost nothing to shoot. While huge campaign coffers and outside spending are scary in Senate and congressional races, presidential campaigns may have reached a point of such diminishing returns that the money isn't as relevant at this altitude.
Here's the clip, from Current TV:
Follow Tommy Christopher (@TommyXtopher) on Twitter.
Have a tip we should know? tips@mediaite.com