Cenk Uygur Savages Obama On Gun Control: 'Hard To Find' Progressives Who Support Him Anymore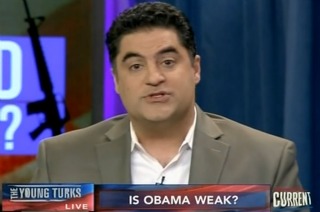 On Tuesday night, Cenk Uygur, host of The Young Turks on Current TV, tore into President Barack Obama's unsuccessful push to get members of his party in Congress to support new gun laws. Uygur, a self-described progressive, said that many people of a similar political persuasion are rethinking their support for the president. "I'm telling you right now," Uygur told his audience, "people who follow the news regularly – those progressives – it's really hard to find any of them that will support Obama anymore."

Uygur referenced a report in The New York Times in which Michael Shear and Peter Baker note that Obama does not operate in the White House like many of his predecessors. "After more than four years in the Oval Office, the president has rarely demonstrated an appetite for ruthless politics that instills fear in lawmakers," they write.
"Is Obama weak?" Uygur asked.
The Nation blogger Leslie Savan said that, while Obama may be leveraging his colleagues behind closed doors, his style of governance is "very frustrating."
"He talks a good game on many different issues," Savan said. "This happens over and over again." Savan added that she was not clear as to why the president did not exert more effort in the push for new gun control laws.
"I'll tell you why," Uygur interjected, "because it's not about him."
Uygur said that when issues are not "related to his personal career," Obama's approach is more lackadaisical. He went on to attack Obama balked at significant tax reform and financial regulatory reform, and added that the president was content to accept half measures and call them victories. "He's not a progressive. He doesn't really care," Uygur lamented.
RELATED: So Much For The 90 Percent: Poll Shows Gun Control Legislation's Failure Greeted With Relief By Many
"About two and a half years into his second term, that news is finally going to reach the masses and they're going to turn around and say, 'what the hell did we do?'" Uygur predicted.
Mediaite editor Noah Rothman said that many historians and pundits have wondered why Obama was not as aggressive an executive as Lyndon Johnson was in the Oval Office. "And, who knows, maybe if LBJ had Obama's personality, maybe he would have relied on that more," Rothman said.
He went on to say that Obama's convivial approach to persuading legislators to support a compromise immigration reform package compared with his aggressive, external campaign for gun control suggests the president is less serious about enacting new gun laws than he says.
"Then he goes out and campaigns at closed-door fundraisers in San Francisco on the issue of gun control and says that 'I'm really working this,'" Rothman added. "This is something that is very attractive to Democratic donors – big dollar, small dollar donors – but it is not something he is especially interested in getting passed legislatively."
Watch the clip below via Current TV:
> >Follow Noah Rothman (@NoahCRothman) on Twitter
Have a tip we should know? tips@mediaite.com