Cenk Uygur Suggests To Keith Olbermann That MSNBC Trades Honesty For Access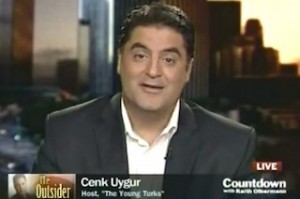 This week Cenk Uygur lost his spot as interim host of the 6pm slot on MSNBC; since then there has been something of a he said/he said surrounding the reasons behind Uygur's departure from the cable news network. Last night, Uygur appeared on Countdown with Keith Olbermann, which now appears on the fledgling Current network, for an interview rife with hidden meanings, subtext, and almost Shakespearean tragic tones.
There is a lot to unpack in the following clip, but the core of it centers around the notion of established, mainstream media, and whether or not Uygur was somehow a victim of being "too honest" in his critiques of those with whom he disagreed politically. This is how he has explained it in his own YoungTurks YouTube video, alleging that MSNBC president Phil Griffin relayed to him that people in Washington "did not like his tone," which led to absurd allegations that somehow the White House was giving programming notes to MSNBC. Both the White House and MSNBC have pushed back rather aggressively on this version of events.
But the most telling part of the interview came at the end of the segment, when Olbermann asked Uygur how he wants his loyal fan base to react to this. Uygur referred to himself in the third person and said:
Look I think the most important message out of all of this isn't about Cenk Uygur, isn't about MSNBC, its about the media and the press in general. And, are we going to be honest with our audience, are we going to trade in honesty and truth and information that we are supposed to gather for access.

I couldn't stand that about the mainstream media before I went there, when I used to tell the Young Turks audience about this was a huge problem. And now that I've been inside that machine it turns out that I was totally right our outside perception of it. The problem is they are obsessed with access and we cannot have it. If you say 'hey listen, I need to have the Democrats on my show going into the election … its not right.
At this point, Olbermann cut off Uygur to end his program on time, perhaps also saving Uygur from saying anything too critical of Olbermann's former employers that might fall beyond a likely non-disclosure agreement between the Countdown host and MSNBC.
Yes, Uygur prefaced his comments by saying that this "isn't about MSNBC" but the rest of his comments seems to suggest a pretty indicting (petty?) stance on MSNBC management. Let's face it, the introductory phrase is pretty damning unto itself. No earnest praise ever came after the opening phrase "I'm not saying that you are ____"; or as many psychology professors will tell you, when someone says "I'm not saying X," what they are really saying is "X."
In fairness, Uygur makes a decent point about access, though anyone who works in any media will tell you that there is a fine balance between reporting and access; it is a nuanced economy of coverage that allows other TV anchors to flourish. But to lay the blame of his departure from MSNBC on his "honesty" is self-serving and belies a much bigger fact: his ratings were not strong.
Couple of other small items worth noting: Uygur's loyal fanbase will likely be delighted to hear Olbermann's throwaway salutation at the end "we'll be in touch," which could indicate that Uygur's next home is on Current (which makes a ton of sense for both Olbermann, Uygur and Current). Alas for the Young Turk, being on Current means that video of your broadcast product will be very difficult to find on the Internet, as evidenced by this post.
Watch the clip below, courtesy of Current:
Have a tip we should know? tips@mediaite.com
Colby Hall - Founding Editor