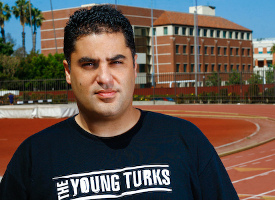 In many ways, the story of Cenk Uygur's rise to cable news prominence is a fairy tale come true. The Turkish born progressive commentator founded the liberal Internet radio show The Young Turks in 2002, and just nine years later he seems to be on his way for his own 6pm show on MSNBC. It was this news that lead Uygur to brazenly lob a verbal shot at cable news titan Fox News that his ultimate goal was to "destroy" them. Brave words to be sure, but perhaps he ought to start with defeating Wolf Blitzer first? Or maybe even, getting MSNBC to announce that the 6pm show will definitely be his.
In an interview with politically friendly AlterNet, Uygur told Don Hazen that he hopes to defeat Fox News "through pointing out their hypocrisy, propaganda and general foolishness," adding "but I also plan to beat them in the ratings and make them fear me." It's always smart to punch up, even with words that sound lke interstitial skit during a pro wrestling program. But coming from a guy who remains an unproven on air talent, maybe its a tad much?
Since taking over for Ed Schultz, Cenk is getting beaten in the key 25-54 demo by CNN's Blitzer, a guy who's probably about 20 years older than the "Young Turk." Specifically, since January 24, Blitzer has averaged 193,000 to Cenk's 141,000. They're neck and neck in terms of viewership with Cenk at 632,000 during this period to Wolf's 601,0000. Considering that, for better or worse, opinion media has consistently beaten hard news for viewers, one would expect MSNBC's margin to be bigger at that hour (and it very may well be in the future.)
More importanlty, Uygur is also down from what Schultz was averaging in January. For the month of January up until his last day at 6pm on 1/21/11, Schultz averaged 762,000 in viewers and 169,000 in demo which was easily beating CNN's 500,000 viewers and 132,000 in the demo. With regard to targeting Fox News, Uygur's 6pm competition on FNC is Bret Baier, who is on another level altogether, ranked second in viewership in cable news overall with 2,039,000 viewers (behind only Bill O'Reilly) and averaging 400,000 in demo.
Still, Uygur's comments about chasing Fox News is the sort of fearless red meat that has made him popular amongst his progressive audience, and it demonstrates a willingness to sacrifice a safe and cautious route if it means he's going to win. When contacted by Mediaite, a rather nonplussed FOX spokesperson said, "What's a Cenk Uygur?"
Snap!
Have a tip we should know? [email protected]