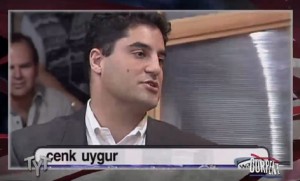 Friday's year-end review episode of Current TV's The Young Turks was a veritable feast for longtime Young Turks viewers and noobs alike, as host Cenk Uygur gave each of his fellow Young Turks a turn in the spotlight. Among the treats was a piece of video, courtesy of longtime co-host Ben Mankiewicz, in which Cenk commits an act of supreme liberal heresy, and tells future boss Al Gore to stop contesting the 2000 presidential election. He does this in characteristically low-key fashion, imploring Gore "For the love of God, stop!"
Longtime TYT viewers have probably already seen many of the vintage clips that were featured on Friday's episode, but it was great for new fans, and who could ever get tired of watching Cenk Uygur hawk tires for Tire Heaven, wolfing down a bacon cheeseburger, or seeing him get body-checked out of an interview with Kevin Spacey? Unfortunately, Current doesn't yet post entire episodes worth of clips, so if you missed it, you'll have to settle for this brief walk down memory lane, from CurrentTV:
With friends like Ben Mankiewicz, who needs enemies?
In a few short weeks, the Current TV iteration of TYT has managed to strike the right balance between its gritty, underground visual style and the right level of production polish. It's a big change from the web series, which always punched above its weight class in production values, but that signature look is important to conveying the show's ethos to those who haven't been with Cenk and the gang for years.
It was a lack of identity, in my view, that severely hampered the show that MSNBC threw together for Cenk. They never bothered to give it a name, or a look of its own, and it was missing the most important ingredients to The Young Turks' success: the rest of the Young Turks. The Current TV show hit the ground running with the entire group, so Friday's show was a chance for the audience to get to know Ben, Jayar Jackson, Ana Kasparian, and Dave Koller. The success of the new show rests largely on their work, and chemistry, with Cenk. Translating their years of working together is a challenge in a one-hour format, but the show is quickly finding its footing.
Have a tip we should know? tips@mediaite.com