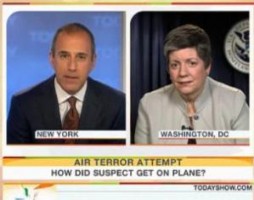 Sec. of Homeland Security Janet Napolitano was on NBC's Today show this morning, back-tracking a bit from her statements about the attempted terror attack made yesterday on several Sunday shows.
She says her comments about how "the system worked" were taken out of context – and she agrees the system actually "failed miserably."
While she said "everything happened that should have" and "everything went according to clockwork," among other similar statements, she did use the caveat "once this incident occurred" as well. The first question from Matt Lauer was about these comments. "I think the comment is being taken out of context," she said, before continuing to drive home the point about, once the attempted terror attack took place, things were handled well (which many are in agreement about).
Lauer pressed on: "You would then concede that the system prior to that, the system that's supposed to prevent something like this from happening, failed miserably?"
Napolitano agreed:
It did. And that's why we are asking a lot of the same questions I heard you asking before this interview. How did this individual get on the plane? Why wasn't the explosive material detected? What do we need to do to change perhaps the rules that have been in place since 2006 for moving somebody from the generic tied database to a more elevated status. All of that under review right now.
This doesn't show a change in what Napolitano believes, but does show her conveying it differently. One of the biggest critics of Pres. Obama, Napolitano and others in the administration since Friday has been Rep. Peter King, but the main critique seems to be the tone taken. That has changed, at least slightly, today.
But Napolitano still is missing some key answers. When Lauer asked how a person who bought a "one-way, trans-Atlantic ticket with cash, checks no luggage, a man whose own father has written a letter to authorities both in his own country and U.S. embassy authorities" got through, Napolitano responded, "I've asked the same questions Matt."
Appearances on the Today show and elsewhere should be the place for some answers.
Here's the Today interview (h/t Newsbusters):


—–
» Follow Steve Krakauer on Twitter
Have a tip we should know? tips@mediaite.com