Charity Prez Blasts Unauthorized Paul Ryan Soup Kitchen Photo-Op: 'He Did Nothing'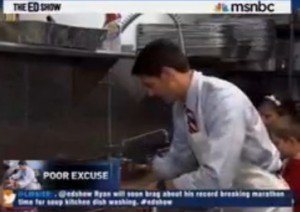 Republican vice-presidential candidate Paul Ryan is in hotter water than it takes to wash dishes that are already clean over his ill-advised Saturday photo-op at a Youngstown, Ohio, soup kitchen. After pool reporters revealed that Ryan's visit to the St. Vincent De Paul Society Dining Hall consisted of washing dishes that were already clean, and after the hall had emptied, the president of the charity blasted the Ryan campaign for "ramrodd(ing) their way" into the soup kitchen, and added that ""The photo-op they did wasn't even accurate. He did nothing. He just came in here to get his picture taken at the dining hall."
On Monday night's The Ed Show, host Ed Schultz tore into Ryan over the artifice involved in his visit to the soup kitchen, which included washing dishes that were already clean, and later speaking only for still cameras, not reporters, with some people who "appeared to be homeless," wondering just what Ryan could have been saying to them.
"I wonder what Ryan told those men he talked to," Ed fumed. "He probably didn't tell them he plans to turn Medicaid into a block grant program, to voucherize Medicare, to slash billions from food assistance programs."
He then explained that Brian J. Antal, president of the Mahoning County St. Vincent De Paul Society, blasted Ryan in an interview with The Washington Post:
"We're a faith-based organization; we are apolitical because the majority of our funding is from private donations," Antal said in a phone interview Monday afternoon. "It's strictly in our bylaws not to do it. They showed up there, and they did not have permission. They got one of the volunteers to open up the doors."

He added: "The photo-op they did wasn't even accurate. He did nothing. He just came in here to get his picture taken at the dining hall."

…"I can't afford to lose funding from these private individuals," he said. "If this was the Democrats, I'd have the same exact problem."

He added that the incident had caused him "all kinds of grief" and that regardless of whether Ryan had intended to serve food to patrons or wash dishes, he would not have allowed the visit to take place.

"Had they asked for permission, it wouldn't have been granted. … But I certainly wouldn't have let him wash clean pans, and then take a picture," Antal said.
WaPo could only get a blind quote from a Romney campaign source explaining how they had arranged the event, some 15 minutes before Ryan's arrival.
Antal's fears are not out of left field. Scott Van Duzer, the pizzeria owner who gained instant viral fame by bear-hugging President Obama, has said he faces boycotts from outraged partisans. It's hard to believe anyone would punish hungry people in need over something like this, but then again, Paul Ryan.
Ed concluded by noting that he finds it "very interesting he goes into a soup kitchen for the homeless in Youngstown, Ohio, does the photo-op, yet this campaign has denied going along and meeting with Sister Simone Campbell," the Catholic nun who has been a vocal opponent of Ryan's budgetary policies. "She's put out the invitation. It would seem to me that would be the real part of the story."
Maybe Sister Simone ought to start a P90X club.
Here's the clip, from The Ed Show:
Follow Tommy Christopher (@TommyXtopher) on Twitter.
Have a tip we should know? tips@mediaite.com