Charles Krauthammer Calls Out Romney Campaign's Missed Opportunities On O'Reilly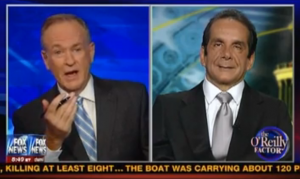 On Monday night, Bill O'Reilly and Charles Krauthammer examined Mitt Romney's campaign strategy, and how he might have managed it differently. Critiquing Romney's "small" campaign, Krauthammer argued that the situation in Libya posed an opportunity for Romney to highlight the president's foreign policy missteps. A missed opportunity.
"He's gone small ball," Krauthammer said, and that approach isn't going to bring him victory. Specifically, he pointed to the Romney campaign's reliance on "slogans of the week" and "hit-and-run attacks." He needs to be more general, Krauthammer said — adding that the media would have no choice but to report those stories despite their bias.
The situation in Libya and the Middle East is a perfect example, Krauthammer explained. "Does Romney seize the opportunity? No. He does a one-off attack." And then "runs away" from it. What he should have done is used the incident to make a speech about the broader implications of the president's foreign policy.
"Romney should have seized the opportunity," he emphasized.
O'Reilly argued that "people don't seem to care enough about that theater of the world." The economy is Romney's chance to come out ahead in the debate, he said.
Krauthammer specified he wasn't referring to debate tactics but rather the way Romney has run his campaign :"extremely small and tactical and not strategic."
As for people's disinterest in the Libya story, Krauthammer said Romney's making a speech about the issue could have attached new importance to it. It could have been portrayed not as a conspiracy or coverup, but part of the larger argument. The reason they had to cover it up: Because they can't admit their strategy has exploded.
Take a look, via Fox News:

Have a tip we should know? tips@mediaite.com