Charles Krauthammer Gushes Over Tim Tebow: 'I Love This Guy! I Love This Story!'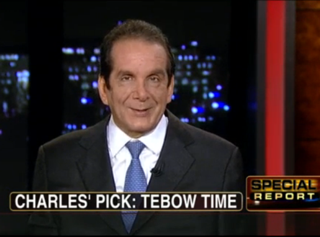 There has been a lot of Tim Tebow discussion on cable news lately, most of it hovering around the faux-political issue of his religion and how he displays it on the field. This, however, is not one of those discussions: this is Washington Post columnist Charles Krauthammer, arguably the smartest pundit on TV, just giddily enjoying the delightful story of how Tebow even got to where he is today– and telling everyone else to cool it with the politics and religion stuff and just watch football.
RELATED: Krauthammer Deadpans: Pearl Harbor Does Not 'Do Justice To The Grandness Of Newt'
On last night's Special Report, the "Lightning Round" began with a quick talk about President Obama's promise to consolidate the government in more economic ways. Eventually, they got to the most popular topic as per their online poll: Tim Tebow, Krauthammer's pick for discussion. "I want to say how humbled I am by the support I got from the viewers, and want to congratulate my opponents for a clean campaign," he joked, before getting to why he considered Tebow so important. "I love this guy! I love this story! and I think the best element of it is that the secular types are getting all in a twist about him– relax, enjoy!" he told detractors.
The panel then went around and discussed exactly why Tebow was so compelling– Nina Easton noted that Tebow brought sick children to his games and gave them his time and encouragement, for one– but the bottom line for Krauthammer was that the story was fun, and people allowed politics to get in the way of that.
Krauthammer is usually the columnist brought in to give specific insight on serious and complex political issues, where millions of lives or livelihoods are often on the line– things like US-Iranian conflict or what a President Gingrich would mean for America. There is a good argument for the FCC just coming down and putting a ban on the words "Tim Tebow" on cable news, but this is a marked exception from the politicization of the football player: it is a celebration of exactly what he is and wants to do with his life, independent of the usually tedious and confrontational issues that have cropped up peripherally to his success.
The clip via Fox News below:

Have a tip we should know? tips@mediaite.com