Charles Krauthammer: If NPR Is Superior, Why Must It 'Live On The Tit Of The State?'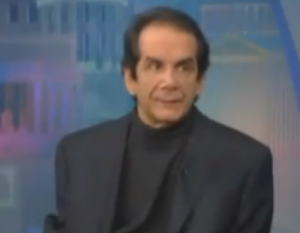 Conservative commentator Charles Krauthammer has had enough of the "liberal arrogance" when it comes to defending NPR and the government subsidy it receives. NPR's Nina Totenberg valiantly attempted to defend her organization's news coverage and disputed they were a "bunch of lefties," yet Krauthammer wondered "if the product is so superior, why does it have to live on the tit of the state?"
Totenberg's response to the NPR sting video controversy:
"I can't defend the executives, the top executives. And I can't necessarily even defend the board, but I can defend the product. There is a reason that we are the only news organization other than Fox with a growing audience. It's because of our product, which is straight-shooting, factual and spends an enormous amount of money gathering news from all over the country and the world. Judge us by our product. The people in the newsroom were probably more mortified than [everybody]."
Krauthammer quickly noted, "the difference between NPR growing and Fox growing, is that Fox isn't holding out a tin cup for taxpayer money. I want NPR to thrive, but not on my dime." Yet Totenberg implied that NPR is better than most other outlets, claiming "we do the job that news organizations used to do, and really don't anymore. They're covering Charlie Sheen." In other words, it appears Totenberg suggests what is "important" might not always be commercially successful. Although it seems not everyone agrees NPR's work is important enough to require all taxpayers to contribute to it.
Watch the clip from Inside Washington below:

Have a tip we should know? tips@mediaite.com