Charles Krauthammer Laments That The Gitmo 'Club Med' Resort Is Booked For The Summer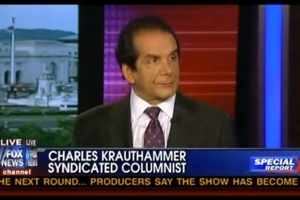 President Barack Obama has been under criticism for some time now about the continued functioning of the US prison at Guantánamo Bay, more than a year after he passed an executive order to shut it down. But while some are decrying the lack of follow-through on that campaign promise, Charles Krauthammer is just jealous he doesn't have the fancy lifestyle of the average Gitmo detainee.
On today's Special Report, Bret Baier pointed out that the accused being held at Guantánamo were allowed to watch the World Cup on tape, with videos coming in regularly of matches. "I don't even think I was able to watch the whole World Cup," Baier joked, and tossed it over to Krauthammer, who had a question for the tourism industry: "How do I get two weeks at Gitmo? Sounds really good– the weather's good, I get eighteen channels, a lot of exercise and I don't have to work."
He also had some very strong words on the initial signing of Obama's executive order, calling it "amateur hour" and a result of President Obama thinking he was "king of the world" and the order would be followed through on without effort. The rest of the panel had similar opinions, suggesting that the Gitmo issue was put on standby in order to pass health care reform and that it has now become a liability.
Fox News Contributor Steve Hayes had a similar assessment to Krauthammer's, pointing out the Twilight books and complaining that they were optional reading material– "if they were forced to read them, then it would be torture," after which Krauthammer suggested the Special Report retreat should be at Gitmo, the better to play video games.
Video below:

Have a tip we should know? tips@mediaite.com