Charles Krauthammer: Obama Is Right To Tout Bin Laden Death, But Not To Attack Romney Over It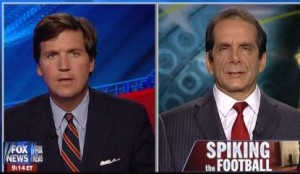 President Obama's new campaign ad touting the successful mission that took out Osama bin Laden is raising some eyebrows because of how it treats the national security issue as a political sledgehammer of sorts to whack Mitt Romney with. Tucker Carlson, filling in for Sean Hannity last night, talked with Charles Krauthammer about how the ad could have been something positive for Obama, but was instead needlessly negative.
RELATED: New Obama Ad: Would Romney Have Ordered Bin Laden Raid?
As Carlson pointed out, the ad attempts to imply Romney would not have carried out the mission because he was seemingly not interested in going after bin Laden. Krauthammer said that the campaign ads over the next few months are basically going to be negative and "so dirty," "you'll have to shower several times a day." He attributed the low opinions Americans have of Congress to all the negative ads being thrown back and forth between the parties, remarking that politics is a unique industry in this regard. Krauthammer suggested if the airline industry tried this tactic and there were ads reading, "You want to die? Fly Delta," people would really have a negative reaction.
Carlson brought up Hillary Clinton's ad accusing Obama of not being ready to handle the country's national security and how a small controversy erupted because of the inclusion of a picture of bin Laden and the subsequent accusations from the Obama campaign that Clinton was trying to politicize national security. Carlson and Krauthammer agreed that the Obama campaign is now guilty of the same problem. Krauthammer made sure to clarify that he thought it was a perfectly legitimate issue for an Obama ad.
"You can run a positive ad saying 'Here's the president, he had a tough decision to make, he made it, he risked a lot, and he succeeded.' Perfectly legitimate, and that's not really to politicize. This is a real historical event. He took a risk, fine. What really sours that ad, and I think will probably have a negative effect on the viewer… is the slighting of Romney at the same time. There was no reason to make it a negative ad."
RELATED: Senator McCain Unloads On President Obama Over Bin Laden Ad
He suspected Romney, or any president for that matter, would have acted in the same way Obama did. But what Krauthammer found odd about the ad was that it never once featured a direct quote from Romney's own mouth, instead relying on news reports of what he said. And as for what Romney actually said, Krauthammer defended the Republican candidate for making the point that just because bin Laden is killed, it wouldn't mean the end of the war on terror.
Watch the video below, courtesy of Fox News:
Have a tip we should know? tips@mediaite.com
Josh Feldman - Senior Editor