Charles Krauthammer On Bachmann/Wallace: 'I Would Ask Ron Paul' If He Was A Flake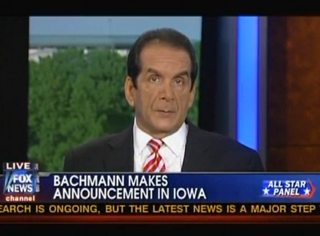 After a heated debate with Jon Stewart, it appeared Fox News Sunday host Chris Wallace fell out of the frying pan and into the fire by asking Rep. Michele Bachmann if she is a "flake." Host Bret Baier announced today Wallace apologized privately and the Congresswoman accepted, though the debate over whether such a question was appropriate continues. To that, Charles Krauthammer had a simple answer: yes, and Rep. Ron Paul deserves to hear it.
"We are told Chris has reached out to Rep. Bachmann and apologized in person, and she has accepted," Baier announced– this after Wallace's video apology garnered a rather chilly reception. That said, the question– and Rep. Bachmann's subsequent indignation– did raise several issues regarding how to address said candidates, and whether she was particularly insulted because such a question would be unheard of for a male candidate. The Special Report had to make due without their female panelist A.B. Stoddard due to an ill-timed coughing fit, but Krauthammer and Bill Kristol took a stab at in anyway.
Kristol noted that such a question would not have been unheard of to a male Republican candidate from more liberal commentators like Dan Rather— "not to compare Chris with Dan Rather"– but that ideological spin did little to explain the gender angle. To this, Krauthammer had a more concrete answer, after giving his review of Rep. Bachmann's campaign speech today ("not a very strong speech"): "I would ask it about Ron Paul." He went on to explain that "I think it's a legitimate question that you could ask of a legitimate candidate," and that, with candidates that have serious policy question pitched to them, it deserves to be asked.
The segment via Fox News below:

Have a tip we should know? tips@mediaite.com