Charles Krauthammer Slams AG Eric Holder For 'Cowardly Use Of The Race Card'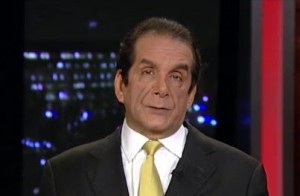 On Sunday, The New York Times ran a profile of Eric Holder in which the attorney general responded to criticism leveled against him and President Obama. Holder told the Times that one of the reasons conservative critics were going after them was due to "the fact that we're both African-American." On Fox News today, Charles Krauthammer criticized Holder for not only being an "incompetent" Attorney General with a controversial track record, but for playing the race card so "cowardly" in the interview.
Bret Baier brought up Newt Gingrich's response to Holder's accusations, and asked the panel why Holder said what he did. ABC's Rick Klein thought it an odd move that called into question Holder's political sensibilities, because the public scrutiny will certainly not go away after comments like those.
RELATED: Rush Limbaugh Lashes Out At Eric Holder Over Black Panther Comments
Steve Hayes had a different theory for why Republicans in Congress have been so strong in going after Holder: his refusal to answer questions during testimonies, especially in the midst of the "Fast & Furious" scandal, have particularly irked them. Race has not necessarily played a big role in criticism of the Attorney General.
But the biggest shots at Holder came from Krauthammer, who spared no detail in explaining what he thought of the comments.
"It's clearly the cheap shot of an Attorney General who thinks he's in trouble. And the reason he is is because he's one of the most incompetent Attorneys General in US history. He's the guy who brought on gratuitously the fiasco of the KSM trial in New York that even Democrats rebelled against. He's the guy that's led the department that's been either totally ignorant or disingenuous or worse of the 'Fast and Furious' scandal. And now he plays the race card. To use his words, I think it's a cowardly use of the race card. And it's unbecoming."
RELATED: Report: Congressional Investigators Prepare To Subpoena Eric Holder Regarding 'Fast And Furious'
Of course, in the spirit of the holiday season, Krauthammer ended his remarks by wishing Holder a Merry Christmas. And isn't that what the holiday season is all about? No matter how incompetent or corrupt you might find someone, wishing them a happy holiday season makes all the difference in the world.
Watch the video below, courtesy of Fox News:
Have a tip we should know? tips@mediaite.com
Josh Feldman - Senior Editor