Charles Krauthammer: 'The Republicans Have Been Entirely Outplayed' On Payroll Tax Cut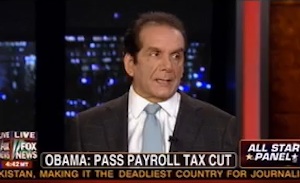 On Tuesday night's Special Report with Bret Baier, conservative columnist Charles Krauthammer conceded that President Obama had the upper hand in the payroll tax cut extension political battle. "The Republicans have been entirely outplayed," Krauthammer admitted.
RELATED: Wall Street Journal Calls Republican Payroll Tax Strategy A 'Fiasco'
"Obama set up a trap, it's a game," Krauthammer observed. "He knows he doesn't have any effect on the economy. It's a way to trap Republicans and he has succeeded! This has a lot of Republicans on board. What the Democrats have succeeded in doing is have the upper hand in the initiative. If the Republicans leave now, the Democrats are not going to save the Republicans…We are going to January 1. There will be a tax holiday imposed. They will pass it in the Senate and the House. What Republicans should have done is swallow the bill and accept it in a month or two. Or what Boehner ought to do is call the House back and propose the bill that the Senate passed with one change. You change the date of expiration of the tax cut from 29 of February to December 31. Every other comma, noun and adjective, as is, and pass it and then dare the Senate and president not to accept."
Krauthammer joins a growing list of discontented conservatives, including Arizona Senator John McCain and the Wall Street Journal who feel President Obama outfoxed House Republicans on the payroll tax cut extension.
Watch Krauthammer concede President Obama outplayed Republicans below via Fox News:

Have a tip we should know? tips@mediaite.com