Charles Krauthammer Throws Cold Water On Bill O'Reilly's Nostalgia For An Era Of Objective News Reporting
Krauthammer Throws Cold Water On O'Reilly's Nostalgia For Era Of Objectivity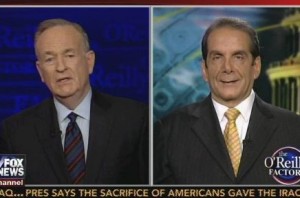 Bill O'Reilly tonight bemoaned the rise of opinion in the world of cable news. He cited a study finding that MSNBC is overwhelmingly opinionated, while Fox News is only marginally so and CNN narrowly has more straight news reporting than opinion. However, in contrast to O'Reilly's nostalgia for strong local news a time before so much opinion, Charles Krauthammer said that local news never really set the agenda for anyone, and the national news media has been a liberal bastion for years.
Krauthammer said the Pew study was thoroughly unsurprising, saying that it's been pretty obvious for years how liberal MSNBC is. O'Reilly found it interesting how in spite of how much Fox News gets criticized for being a conservative echo chamber, it had far more news reporting on average than MSNBC.
RELATED: MSNBC Coverage Almost Entirely Opinionated, While Fox News Includes More Factual Reporting, Study Says
O'Reilly brought up other numbers in the study finding that local news is having a shrinking influence. Krauthammer said it never had much influence to begin with, arguing that local news never "moved national opinion" and network/cable news has done far more pushing on national political debates. O'Reilly shot back that there used to be a lot of local news focus on local politics but now people do not have those outlets holding their state and local officials accountable.
Back on the national news front, Krauthammer said that even institutions like 60 Minutes are shells of their former selves, maintaining that there is a clear difference between how hard-hitting the media is when it's a liberal in charge versus a conservative. When O'Reilly bemoaned how it's become harder to get objective, hard-hitting news anymore, Krauthammer said that there has always been a liberal agenda in much of the news media; the difference now is that there are "a few dissenting, independent voices," and Fox News can count itself among them.
Watch the video below, courtesy of Fox News:
—–
Follow Josh Feldman on Twitter: @feldmaniac
Have a tip we should know? tips@mediaite.com
Josh Feldman - Senior Editor