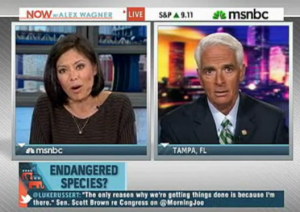 On Friday's Now with Alex Wagner, Charlie Crist, former Florida governor, spoke quite highly of President Obama. He praised the president's reaching across the aisle, expressing "admiration" — but not offering up an endorsement.
Elected a Republican, Crist lost the GOP primary in 2010. It's increasingly difficult, he said, to be a moderate in the Republican Party. The primary race was Exhibit A, he added — noting that it was essentially candidates trying to prove they're the most conservative.
Romney should, and will, move toward the center he said: "If you're not going to continue to have a problem with women voters or Hispanics, or other minorities, you've got to, I think, put forward a voice and a message that says that you want to govern for all the people, not just for the radical right of the Republican Party." Romney's a "smart guy," Crist said — so he'll probably do just that.
Crist went on:
But I think we've already got a president, from what we've seen over the past three and a half now almost four years, who is trying to do that. I think that President Obama has given great effort and really tried to move in a more centrist mode, continually trying to reach out during the first couple years to the Republicans for help. Until finally he really came to realize that just wasn't going to be, and he needed to try to do things on his own with his Democratic colleagues.
Asked "Is that an endorsement, Governor?" Crist replied, "No, it's not. It's some admiration, obviously."
Wagner noted, "You're giving no endorsements with admiration, and Mitt Romney is getting endorsements without admiration."
Take a look, via MSNBC:

Have a tip we should know? tips@mediaite.com