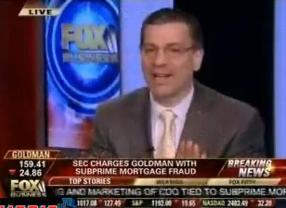 The U.S. government has charged Goldman Sachs with fraud today, and the business networks (as well as cable news in general) have spent significant time covering the breaking news.
On Fox Business Network, Charlie Gasparino, author of the recently published, The Sellout, had some choice words for the company – well, one very choice word.
Gasparino was being interviewed by anchors Brian Sullivan and Dagen McDowell, and said he had been trying to get in touch with Goldman all morning. "I just tried calling Goldman Sachs media department," he said, laughing. "I got voicemail."
But when Sullivan brought up the idea that this whole lawsuit was the fault of a "rogue employee," Gasparino cut in. "That's bullshit," he said. "Excuse the language."
"I'm sure it's never been said on a trading floor," joked Sullivan.
Gasparino's fiery delivery mixes well with his inside combination of Wall St. smarts and Main St. appeal. It's what made his move from CNBC to FBN so important to the young business network. And as he want to turn the business network fight into a "barroom brawl," he's certainly got the language down.
Here's more info about the lawsuit, from a Reuters report:
Goldman Sachs Group Inc was charged with fraud on Friday by U.S. securities regulators in the structuring and marketing of a debt product tied to subprime mortgages.

The Securities and Exchange Commission lawsuit alleges that Paulson & Co, a major hedge fund run by the billionaire John Paulson, worked with Goldman in creating the collateralized debt obligation, and stood to benefit as its value fell, costing investors more than $1 billion.

Fabrice Tourre, a Goldman vice president who the SEC said was principally responsible for creating the product, was also charged with fraud.

Paulson has not been charged.
Here's the clip:


—–
» Follow Steve Krakauer on Twitter
Have a tip we should know? tips@mediaite.com