Charlie Hebdo Cartoonists Distance Themselves from Texas Event: 'No Comparison'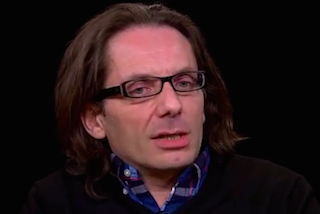 One day after two jihadist gunman attempted to shoot up a Muhammad Art Exhibit and Cartoon Contest in Garland, Texas before they were killed by police, Charlie Rose invited two cartoonists for the French satirical magazine Charlie Hebdo, which experienced a deadly attack on its offices earlier this year, to comment on the parallels — or lack thereof — between the two incidents.
"To be honest, I can imagine the kind of comparison you can make between the Charlie Hebdo attack of January 7 and this event, but there is nothing to do [with one another], there is no comparison, absolutely no comparison," Jean-Baptiste Thoret said in a clip of a longer interview set to air tonight.
While he described the group that put on the event in Texas as part of an "anti-Islamic movement" against the "Islamization of the U.S.," Thoret said the motives of Charlie Hebdo are "absolutely not the same." For the magazine, he said it "was a question of criticizing" all religions, not Muslim people "in particular."
RELATED: Charlie Hebdo Cartoonist: I Will No Longer Draw Prophet Muhammad
"We don't organize contests, we just do our work," Gerard Biard added. "We comment on the news. When Muhammad [pops up] in the news, we draw Muhammad. But if he didn't, we didn't — we don't."
The Texas event was organized by the American Freedom Defense Initiative, a New York group run by vocal anti-Islam activist Pamela Geller, which offered a $10,000 prize for the best caricature of the Muslim Prophet Muhammad, who adherent believes can and should not be depicted visually.
Watch video below, via PBS:
[Photo via screengrab]
— —
>> Follow Matt Wilstein (@TheMattWilstein) on Twitter
Have a tip we should know? tips@mediaite.com