Charlie Hebdo Writer Holds Up Muhammed Cover on Sky News; Network Cuts Away and Apologizes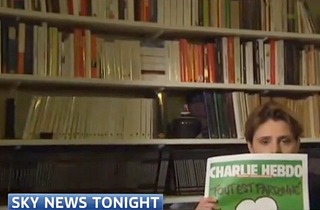 While several major news outlets in the United States have resisted showing the Muhammed-depicting cover of Charlie Hebdo's first issue following last week's massacre, it appears as though their squeamishness is not nearly as severe as that of media in the United Kingdom.
Hebdo writer Caroline Fourest appeared Wednesday evening on SkyNews to tout her magazine's hot-selling post-attack issue, with cover art showing Muhammed holding up a "Je Suis Charlie" sign and a caption reading "All Is Forgiven."
"I'm very sad, very sad that journalists in UK do not support us, that journalists in UK betray what journalism is about by thinking that people cannot be grown enough to decide if a drawing is offending or not," she said to the hosts of SkyNews Tonight via satellite. "Because you are not even showing it."
The camera then panned out as Fourest reached for a copy of the magazine and continued: "It is completely crazy that in UK you cannot show a simple drawing as that." At this point, she was holding the Muhammed artwork in full view of the camera, before the photographer panned upwards and then SkyNews immediately returned back to studio.
The anchor then explained the decision to cut away: "We at SkyNews have chosen not to show that cover, so we'd appreciate it, Caroline, not showing that."
"I do apologize," the anchor continued, "for any of our viewers who may have been offended by that."
Watch below, via SkyNews:
[h/t MediaGuido]
[Image via SkyNews/screengrab]
— —
>> Follow Andrew Kirell (@AndrewKirell) on Twitter
Have a tip we should know? tips@mediaite.com