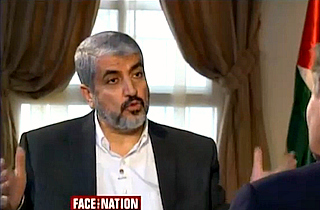 CBS News' Charlie Rose interviewed Khaled Meshaal for Face the Nation Sunday morning, and attempted to corner him as to whether the Palestinians would recognize Israel's right to exist as a Jewish state provided it was not occupying the Palestinian territories.
Meshaal had initially said, "We are not fanatics. We are not fundamentalists. We do not, actually, fight the Jews because they are Jews per se. We fight the occupiers."
Rose asked if this pledge to coexist included Israel. "It's one thing to say you want to coexist with the Jews, it's another thing to say you want to coexist with the state of Israel," Rose said.
Meshaal said several times that he would not coexist with "the occupiers," and Rose responded several times that he meant in a situation in which Israel had pulled out of the territories. Finally Rose point blank asked him if he would recognize Israel, at which point Meshaal appeared to say that he would not, though he continued to speak of Israel as "the occupiers."
He then demurred and said it would be a question decided by the Palestinians. "When we have a Palestinian state, then the Palestinian state will decide on its policies," Meshaal said. "But you cannot actually ask me about the future. I answered you. But Palestinian people can have their say, when they have their own state, without occupation."
More of Rose's interview will be aired tomorrow on CBS This Morning.
Watch the clip below, via CBS News:
[Image via screengrab]
——
>> Follow Evan McMurry (@evanmcmurry) on Twitter
Have a tip we should know? tips@mediaite.com