Charlie Rose Grills Syrian President Bashar al-Assad: When Will You 'Give Up Power'?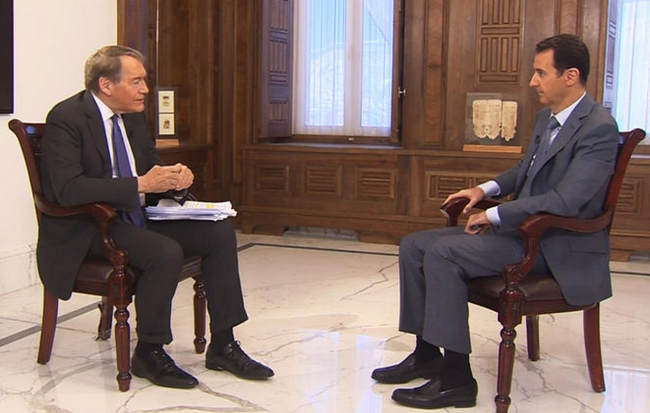 Four years after President Barack Obama declared that Syrian President Bashar al-Assad must give up his power, the leader still remains firmly in power, albeit in the midst of a brutal civil war that has cost hundreds of thousands of lives. Assad sat down Sunday evening for a lengthy conversation with CBS 60 Minutes correspondent Charlie Rose and faced tough questions about the nature of his power struggle and whether he intends to abdicate the presidency any time soon.
Some key moments are as follows. When Rose asked the Syrian leader whether he'd be open to inspectors coming in to search his weapons stockpile, Assad said: "We always ask a delegation, impartial delegation to come and investigate. But I mean logically and realistically it cannot be used as a military. This is part of the propaganda because, as you know, in the media when it bleeds it leads. And they always look for something that bleeds, which is the chlorine gas and the barrel bombs."
Asked why the United States and other Western countries do not see his legitimacy as a world leader, Assad responded:
This intervention in Syria matters. I don't care about it, to be frank. I never care about it. As long as I have the public support of the Syrian people. That's my legitimacy; legitimacy comes from the inside, but why? I will tell you why. Because the West used to have puppets. Not independent leaders, or officials in any other country. And that the problem with Putin. They demonize Putin because he can say no, and he wants to be independent. Because the West, and especially the United States, don't accept partners. They only accept followers. Even Europe is not partner of the United States. That's to be very frank with you. So, this is their problem with Syria. They need somebody to keep saying yes. Yes– a puppet. Marionette. And so on.
Watch the full interview below, via CBS:
[Image via CBS/screengrab]
Have a tip we should know? tips@mediaite.com