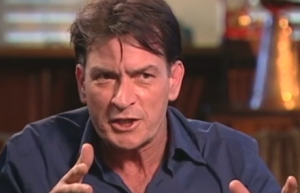 Two titanic forces collide this Monday morning: the mega trainwreck of Charlie Sheen and the take-no-prisoners fight to the death between ABC's Good Morning America and NBC's TODAY. Sheen appeared in interviews on both network shows in their first half hours Monday, confirming to ABC that he was on drugs ("I am on a drug. It's called Charlie Sheen") and telling NBC he's ready to go back to work on CBS's Two and a Half Men–if he gets a raise. Sheen told TODAY's Jeff Rossen he wanted to be paid $3 million an episode to continue the hit sitcom. He's reportedly paid $1.8 million an episode now, making him one of the highest-paid actors on television.

"You want a raise?" Rossen asked. Sheen said, "Yeah, look what they put me through."
But reading Sheen's words–and hearing them in a series of radio show call-ins is nothing compared to watching him. If Sheen's goal in doing network interviews was to convince people he's fine and ready to return to work–he may have failed spectacularly. Take for instance this gem from the interview with ABC's Andrea Canning:
CANNING: All these radio rants have people thinking, Charlie Sheen, he's got to be on drugs.

SHEEN: Sure. Yeah. I am on a drug. It's called Charlie Sheen. It's not available because if you try it once, you will die. Your face will melt off and your children will weep over your exploded body. Too much?
Yes? Way too much? He goes on to describe how he's fighting for his career with "violent hatred." It's truly cringetastic.
Elsewhere in the ABC interview, set to air on a special 20/20 Tuesday night, Sheen describes his past drug use:
Sheen described himself as superhuman, citing a "different constitution," "different brain" and "different heart" than normal people that allowed him to survive such extreme bouts of drug use.

"I got tiger blood, man," he said. "My brain….fires in a way that is — I don't know, maybe not from this particular terrestrial realm."

When asked if he worries about dying from drug binges, Sheen quipped, "dying's for fools." He went on to explain his set of "rules" when he took drugs, which included avoiding certain blends that brought others down.

"There's certain blends I will not entertain because this [is] how people go down. I'm too smart to do that," he said. "I'm sorry for the guys that that happened to, but, you know, you should have read the directions before you showed up at the party."
Watch it here, from ABC:
Have a tip we should know? tips@mediaite.com