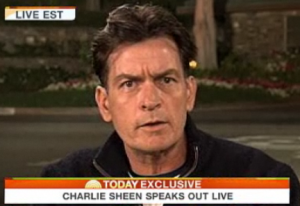 Despite the worry from some that the media is wrongly exploiting Charlie Sheen, the fact remains that right now in Sheen's world there constantly seems to be new developments worth covering and that he is interested in discussing. Now Sheen's estranged wife, Brooke Mueller, has been granted a restraining order against Sheen and as a result their twin boys have been removed from his home. Sheen addressed the situation live on The Today Show and vowed that he "stayed calm" and is now "focused" on getting his children back.
Sheen claimed "I'm not into resisting the law" and willingly cooperated with the authorities who took his children, despite not knowing where they were being taken. After declaring, "I do not know where my children are," Sheen asked his lawyer, who was sitting next to him, shouldn't a father have the right to know the location of his children?
When NBC's Jeff Rossen asked Sheen if he wanted to say anything directly to Mueller, Sheen turned to his lawyer asking "is that violating it, through live television, is that in the restraining order, those things get pretty creative these days?" His lawyer advised, "there's only an order preventing you from contacting her, but you never want anything twisted." In other words, you're not prevented from saying anything to her, but you probably shouldn't. Sheen seemed to understand the advice, and then promptly ignored it and spoke directly to her:
"Brooke I'm sorry that you felt this had to be done in this way, but this does not display any responsible parenting in anything that I'm familiar with . . . and I urge you to reach out to me and immediately if not sooner and tell me where our sons are."
Just in case this all sounds a bit too serious, Sheen, possibly in an attempt to show he still maintains a good sense of humor, said he thought CBS president Les Moonves' joke about him was very funny and when Meredith Vieira jumped in with a final question, Sheen asked "is this the million dollar question?" referencing her other job as a game show host.
Watch the clip from NBC below:

Have a tip we should know? tips@mediaite.com