Charlie Sheen: "Women Are Not To Be Hit, They're To Be Hugged And Caressed"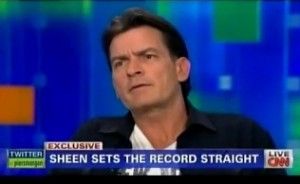 In the event that you lead a rich and rewarding life, you are probably well aware of the real-time drama that has unfolded, over various media outlets in the last few days, involving embattled TV actor Charlie Sheen. The latest installment? A live and in-studio interview with CNN's Piers Morgan, who seemed to be more chummy than challenging for much of the discussion, until he mentioned the subject of girlfriend abuse.
After taping interviews with TODAY and ABC News 20/20, Sheen broke new media territory with a live-streamed backyard interview with TMZ that set Twitter aflutter, seemingly winning over the suddenly slack-jawed set of cynical snarkers who follow such things live on social media platforms. So tonight's booking by Morgan's producers of the current "It Boy" of the moment was not only a huge victory for CNN and its newly launched show, but also for you, the TV viewer, who had been teased with classic crazy banter from the embattled Mr. Sheen all day via the Internet. At least in theory.
Morgan opened the show by revealing that he and Sheen had a prior history of being chummy, and proved that point by showing an image of Sheen and Morgan in ski gear, from the slopes of Aspen, Colorado' where they had previously palled around together. In hindsight, this seemed to be a mistake, because the image of interviewer and subject having a laugh during lighter times highlighted a critique echoed across Twitter during the interview: Morgan was acting more as Sheen's buddy and less his interrogator. Given Sheen's bizarre behavior of the last few days, the occasion called for a tough interrogation, and not a supportive (some might say enabling) tone.
In Morgan's defense, Sheen seemed much more relaxed, exhausted, or just less passionate in this interview than those he gave earlier. Maybe he got all the "crazy" out of his system, as the first few segments lacked focus, energy, and noteworthy moments. But that changed when Morgan asked Sheen about his alleged history of beating girlfriends and spouses, either physically or verbally.
Watch the clip below, courtesy of CNN:
Have a tip we should know? tips@mediaite.com