Chattering Class Relish Opportunity to 'Analyze' Their Dream Punching Bag: Ted Cruz
Chattering Class Relish Opportunity to 'Analyze' Dream Punching Bag: Ted Cruz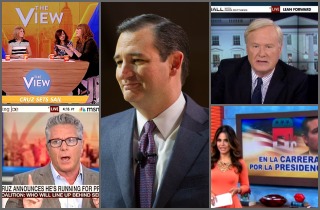 Each December since I-don't-know-when, I enjoy speculating over what the best Super Bowl matchup would be from an entertainment perspective. Oftentimes that doesn't mean both top seeds from the AFC and NFC making it to February (as was the case last month), but what game will create the biggest buzz, controversy and hype.
This year, I saw that matchup not as Seahawks-Patriots (Richard Sherman is so 2014), but Cowboys-Patriots instead. Just the presence of Tony Romo and all the buildup around his legacy (which has taken a very unfair rap as a choker in big spots despite stats to the contrary) along with the specter of the eeeevil Jerry Jones and the polarizing Cowboys, combined with the usual circus that follows Belichick, Brady, and the Pats, would be the stuff of legend. Unfortunately, the Cowboys got screwed in Green Bay (sorry…three steps and a lunge is a football move and therefore was a catch for Dez Bryant), and the Seahawks advanced on a miracle comeback against Green Bay instead. The Super Bowl itself — obviously — went down as one of the greatest of all-time (#2 on my list behind Pats-Giants I).
The same thought process goes into presidential campaigns: In the end, what matchup would be the most awesome to witness purely from an entertainment perspective? Which candidates would make the talking heads and talk radio explode the most? Well, one of those contenders entered the fray Monday in the form of Sen. Ted Cruz (R-TX) and, boy, did that give the chattering class something to get hysterical on panels across the cable news spectrum.
When looking at who (or in this case: what) benefits from the Cruz candidacy, look no further than MSNBC, which performs best when it has a bogeyman (or bogeywoman) to beat up on. Sarah Palin did wonders for the network back in 2008 (and NBC/Tina Fey as well). Mitt Romney was turned into Gordon Gekko in 2012, playing into the caricature of an out-of-touch uncaring Republican better than the network could have ever hoped. In early 2013, Chris Christie got the wall-to-wall treatment for a good six weeks straight thanks to Bridgegate, which has turned out (so far) to be a nothingburger as far as the governor is concerned (although his reputation has taken a hit it will never fully recover from).
But since Christie, MSNBC hasn't had a prominent GOPer to gobble up. Boehner? Please. He gets pounded more by right-wing talk radio than any progressive outlet. McConnell? Tedious, risk-averse. Trump? C'mon.
In its rush to the bottom of the ratings game, even finishing behind HLN – -which will now never be confused with its old self of Headline News — MSNBC talent as a whole has been shooting without a true target. It's as if it's been counting the days down until the presidential race finally begins. As I noted awhile back, Phil Griffin's network is built like the Olympics: Come visit every four years and watch the drama unfold.
And now, thanks to the controversial Cruz being first to jump into the race, the opening ceremonies has begun with a bang.
But just how loud? Here are some headlines and hyperbolic quotes generated from Monday alone:
– "NBC's Kasie Hunt: Cruz's Ivy League Degrees Might Not Appeal to GOP Base" (From MSNBC's News Nation with Tamron Hall). Ms. Hunt's analysis makes perfect sense when considering Mitt Romney has degrees from Stanford and Harvard, Bush 43 from Yale and Harvard, and Bush 41 from Yale.
– "Donny Deutsch: Ted Cruz Is the New Sarah Palin" http://www.mediaite.com/tv/donny-deutsch-ted-cruz-is-the-new-sarah-palin/. (From MSNBC's Morning Joe, which ignores Cruz's educational background that includes graduating Princeton cum laude and Harvard Law School magna cum laude.)
– The message of Cruz's first big speech was "Extremism is good." – Jonathan Alter to MSNBC's Jose Diaz-Balart.
– "Hardball's Matthews Spends Much of Program Blasting Him as Latter-Day 'McCarthy'"
But it wasn't just the progressives on MSNBC immediately going down that road. You can find fascinating analysis from politicians and pundits across all cable and broadcast news, including:
– "The View Wants to See Ted Cruz's Birth Certificate"
– "Jerry Brown: Cruz 'Absolutely Unfit to Be Running for Office'"
– "Journalists Lock Step With Celebrities in Bashing Ted Cruz Presidential Campaign Announcement"
– "Fox's Eric Bolling: Ted Cruz 'Not Ready' to Be President in 2016:
– "Donald Trump Questions Ted Cruz's Citizenship"
– "Rep. Peter King Threatens to Jump Off a Bridge if Cruz Gets GOP Nomination"
– "Jon Stewart Mocks Ted Cruz's Televangelist-Like Big Speech"
And there's energy at Camp Speculation again, no doubt about that. And guess what? If you don't think every host, personality and producer across the board isn't secretly rooting for Cruz to represent the GOP more than any other candidate, you're N-V-T-S…nuts, to quote the great Mel Brooks film, History of the World Part I.
So who would be the perfect foil to Cruz from the Democratic side of the ball? Elizabeth Warren, of course…who makes the current president look downright centrist. If the Massachusetts senator actually did earn the nomination, Fox alone would have to move to a 25-hour schedule. Ratings by even its own standards would be off the charts.
Of course, neither Cruz nor Warren has any real shot at their respective parties' nomination, but the two share this very important fact in common:
Both are consistent and absolute in their perspective on what direction the country should head in. You can argue their policy positions all day, but both are tough, dedicated and most importantly, principled. If the two every debated, the contrast and passion would be the greatest political theatre since, well… ever.
But for obvious reasons, those scenarios will have to stay in the land of hypotheticals. Instead we'll get something more like Kasich or Walker or Bush vs. Clinton or O'Malley (Kasich wins under any scenario if he runs…you can mark that down). But from an entertainment perspective, fireworks isn't a word that comes mind first.
In the meantime and near-future, we get to witness just how polarized and unhinged allegedly-intelligent and articulate adults get when the name Cruz is mentioned. Much of the talk is both irresponsible and ill-advised.
But like a car crash on the side of the road, it's hard to look away from… or shut off.
[Images via Shutterstock.com/MSNBC/ABC/Univision]
— —
>> Follow Joe Concha on Twitter @JoeConchaTV
Have a tip we should know? tips@mediaite.com