Cheers, Jeers, And Condescension: Morning Joe Tackles Heated Brown/Warren Debate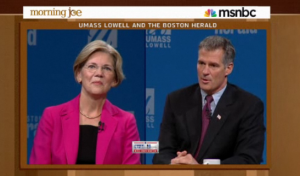 Did you watch Senatorial candidates Scott Brown and Elizabeth Warren's heated debate last night? The two's contentious back-and-forth was one topic of discussion on Tuesday's Morning Joe, with the show's panel reviewing, for example, Brown dealing with Warren's interruption by informing her that he's not one of her students and his ongoing questions about her decision to self-identify as Native American. Do such comments run the risk of making Brown look condescending or, worse, like a bully?
Host Mika Brzezinski noted that "there are dynamics between male and female politicians, which you have to be extremely wary of." Guest Howard Dean, meanwhile, thought that Brown was making a case for the "angry white guy" demo, an assessment with which Mike Barnicle disagreed, adding that Brown's greatest challenge basically comes down to a "numbers game." He later pointed out that Warren is actually to the left of most voters in the state. Steve Rattner agreed, adding that he doesn't think most Massachusetts voters would want to "radically restructure the financial industry" to the extent Warren would want to.
Willie Geist focused on Brown's attempts to paint Warren as an outsider, a Harvard professor, an academic who is out of touch with what the average voters cares about.
Warren ran into some trouble when moderator David Gregory asked her which, if any, Republicans she would work with if elected. "It depends on what the subject matter is," she'd said, after naming Dick Lugar. Brown, on the other hand, drew his own jeers from the audience after he spoke of his admiration for Justice Scalia.
Have a look at the segment, courtesy of MSNBC:
Have a tip we should know? tips@mediaite.com