Chelsea Clinton Brilliantly Manipulates Media with Confession About Her Diarrhea Obsession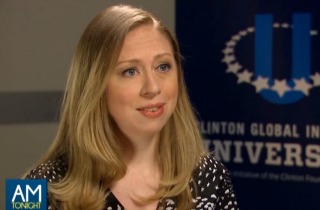 Chelsea Clinton knows you really don't give a damn about dying children in the developing world.
Sure, you say you do. You even think you do, but you don't. Not enough, at least, to watch her speak at length about preventable illnesses, like chronic dehydration, which claim the lives of more than three quarters of a million children ever year.
And why should you? Year after year, you are confronted on a nearly daily basis with images of half-clothed children with distended bellies wading through streets in which raw sewage flows. You are asked to give something, anything, if only to save even one life. And maybe you do, but the problem never seems to get better. If anything, based only on the endless cascade of bad news from the world's afflicted regions, it only seems to get worse.
What's more, the media knows you are burnt out. When was the last time you saw a lengthy report on cable news digging into the deteriorating conditions in Syrian refugee camps, or exposing the chronically malnourished of Harare, or profiling the heartbreaking poverty in Port-au-Prince? You don't see that, because it does not draw viewers or sell advertising. These are conditions that seem intractable, and problems that cannot be solved are problems from which anyone can be forgiven for recoiling.
Confronted with this outbreak of apathy, Clinton offered herself up as a sacrifice to the cause. She did what few with the gift of celebrity are willing to; she set herself up as a subject of mockery in order to get you to listen. So, when talking with Fusion host Alicia Menendez last week, Clinton drew attention to the issue of dehydration in the developing world in an innovative way: she framed the matter as part of what she said was her fixation with all things scatological.
"I am obsessed with diarrhea," Clinton told Menendez.
Instantly, eyeball widened, ears perked, interests piqued. The tag line which would grace every Fusion headline and serve as the tease clip for every promo was set. Only then, after deftly manipulating the news consumer's hunger for the sensational, did Clinton delve into the meat of the issue.
"I think it's completely unacceptable that still across the world more than 750,000 children die every year due to severe dehydration due to diarrhea," Clinton continued. "I just think that's unconscionable."
Here, Clinton demonstrated a savvy mastery of the media landscape. She knew what she wanted and she gave it to them, even at the expense of her own carefully crafted public image. That's an exceedingly rare occurrence these days. It is one that is worthy of admiration.
Well done, Chelsea Clinton. Well done.
Watch the interview below, via Fusion:
[Photo via screen grab ]
— —
> >Follow Noah Rothman (@NoahCRothman) on Twitter
Have a tip we should know? tips@mediaite.com