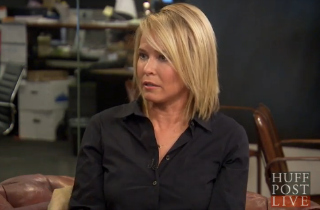 Comedienne and former E! late-night host Chelsea Handler sat down for a lengthy interview with HuffPost Live, at one point dishing on her being rejected as a guest from both Saturday Night Live and The Daily Show.
During the discussion, HuffPost Live co-founder Roy Sekoff praised Handler as a visionary who goes "underrated" in the comedy world despite having five bestselling books, while female stars like SNL legend Tina Fey are awarded the prestigious Mark Twain Prize for American Humor.
While SNL was on everyone's minds, Sekoff wondered, has Handler ever been invited to host the show?
"No! No, I have not!" Handler exclaimed before recalling the story as such:
I went over there and they said, "You're gonna host." And I was doing Radio City Music Hall that night. I And I had three sold-out shows at Radio City Music Hall. And I went over, I met with I guess whoever was working with [Lorne Michaels] — [producer] Marci Klein was working for him at the time. They're gonna hate that I'm talking about this right now, but I really don't have a problem with that. So they said, "Oh, we have to have you host." And my agent called, he said, "You're hosting 'SNL'. They're gonna give you a date in the fall." And I go, "Great! Perfect!" And then it never happened.
Handler claims she later found out the writers "have a problem any time we bring on a comedian," a concept she called "complete nonsense" given recent hosting gigs by Sarah Silverman, Lena Dunham, and others.
"If you don't like me, that's okay," she said, referring to the SNL snub. "I'm a big girl, I have a lot of people who don't like me." Ultimately, she concluded: "I feel bad for people who can't just say, 'Hey, listen, you're just not our cup of tea.'"
An example of someone who bluntly told her so? The Daily Show producers, she said.
Watch below, via HuffPost Live:
[h/t Salon]
— —
>> Follow Andrew Kirell (@AndrewKirell) on Twitter
Have a tip we should know? tips@mediaite.com