Chelsea Handler Mocks Time's Person Of The Year: 'There's An Issue You Can Skip'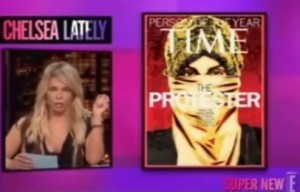 During a rundown of the latest news on Wednesday night's Chelsea Lately, host Chelsea Handler went over Time's naming of The Protester as its "Person of the Year." She did not seem impressed.
"So, there's an issue you can skip," she said, before pausing and adding, "I am happy, at least it's not a Kardashian."
Comedian Ben Gleib, one of her guests on the panel, countered Handler's position, saying that The Protester was "a great choice" for the honor because, due to his involvement with the Occupy protests, "I am Person of the Year."
Handler uttered, "Oh God, here we go again," when Gleib mentioned his involvement with the Occupy movement, then made a case for Herman Cain as Person of the Year. "I wanted him back," she said. "I miss him."
Gleib still persisted on the Occupy movement deserving part of the honor, telling Handler that he thinks it's going to grow into next year. "Well it's December, so probably… Nostradamus, thank you," she replied.
RELATED: Chris Matthews Snaps At Chelsea Handler: 'If You Concentrate, You Can Keep Up'
Saying that the Occupy movement has a lot of great goals and causes, Gleib then added that the protests, "have amazing weed." Actress Natasha Leggero, also on the panel, scolded him to not say that. "It doesn't need more bad press."
"I'm not going to deny it," Gleib responded. "I'm reporting the truth!"
Handler then moved on to Donald Trump's nixed debate:
"It's like having a really lame Christmas party and the two biggest losers RSVP yes, and then you have to cancel the party."
Watch the clip of the political roundtable below, courtesy of E!:
Have a tip we should know? tips@mediaite.com