Cheney Opens Up For Intimate Showtime Doc: 'I Don't Spend A Lot Of Time Thinking About My Faults'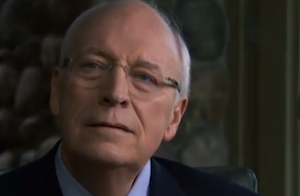 Former Vice President Dick Cheney will be the star of his own documentary when The World According To Dick Cheney appears on Showtime next month. The film had its official premiere at the Sundance Film Festival in January, but soon a broader audience will get what appears to be the most in-depth look at Cheney's career ever to hit the screen.
In the just-released trailer from Showtime, Cheney says that his favorite virtue is "integrity," his most valued attribute in his friends is "honesty." And his main fault? "Well, I don't spend a lot of time thinking about my faults."
The documentary will review Cheney's entire life, from his upbringing in Wyoming to his first big Washington role as President Ford's chief of staff to his eventual ascension through Congress, the Pentagon and finally the Vice Presidency.
Cheney discusses the questions he asks himself about the biggest moments of his career including 9/11 ("If we had been able to take out one of those planes headed for the World Trade Center, would we have done it? The answer is absolutely yes") and the resulting War on Terror ("Are you going to trade the lives of a number of people because you want to preserve your honor? This was a war time situation and it was more important to be successful than it was to be loved.")
The film was directed by R.J. Cutler, who previously directed the documentary The September Issue about another intimidating subject, Anna Wintour. Cutler recently told The Daily Beast that his pitch "was that I wanted to tell his story, wanted his voice to be at the center of it, and I wanted it to be a dialogue and an active conversation about key moments that defined his life, career, and worldview."
Watch the trailer below, via Showtime:
—
>> Follow Matt Wilstein (@TheMattWilstein) on Twitter
Have a tip we should know? tips@mediaite.com