Tribune Columnist Challenges Obama To Come To Chicago For Funeral Of A 'Ghettoized' Minority Murder Victim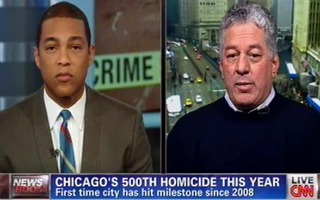 John Kass, columnist for The Chicago Tribune, appeared on CNN on Friday where he discussed the tragic increase of violence and murder that has struck his city in recent years. He said that lawmakers and members of the press have been guilty of "papering over" how bad the situation in Chicago was getting, and of "ghettoizing" the minority children who become the victims of gun violence in the inner city. Kass concluded by challenging President Barack Obama to come to Chicago for the funeral of one of the "hundreds and hundreds" of African-American and Latino children killed every year in gun crimes.

RELATED: Rev. Jesse Jackson Repeatedly Challenged To Defend Chicago Gun Ban After 500th Homicide This Year
Discussing the escalating violence and high homicide rate in Chicago, Kass said that there have been firearms in the Windy City since the 19th century. The big issue today, Kass says, is that the city no longer has the resources to cope with this violence.
"Over 20 years, I can give you a laundry list of corruption and cronyism, but you know it well because you were here as well and you saw it," Kass told CNN anchor Don Lemon.
He said that a TIME Magazine reporter once compared former Chicago Mayor Richard Daley to Andy Griffith's depiction of the sheriff of Mayberry. "Now that reporter is the press secretary for President Obama," Kass said, referring to White House Press Sec. Jay Carney.
"There had been people who were papering over and smooching up and making things look nice when they weren't nice," Kass added. "The city is broke."
"We make the Sandy Hook – which was a tragedy – a big deal. Why don't the politicians come to the funerals of the dead African-American and Latino kids who get killed by the hundreds and hundreds and hundreds," asked Kass. "The media has ghettoized these children, these homicide victims."
"I'm not diminishing the others, I'm just saying, President Obama, show up at a funeral here in Chicago once in a while too," Kass concluded.
Watch the clip below via CNN:
> >Follow Noah Rothman (@Noah_C_Rothman) on Twitter
Have a tip we should know? [email protected]
---