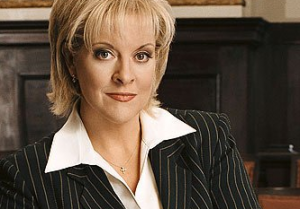 HLN's Nancy Grace has built a massively successful franchise on true crime and kids. And she tells the New York Post's Michael Starr she's got a new target these days. No, it's not predators or kidnappers–like the guy who abducted a girl and took her cross country before being spotted by, yes, a Nancy Grace viewer–this time the real danger is FishVille.
Grace tells Starr she was sickened to two recent–and horrific–cases of parents so wrapped up in online games like FishVille they killed their children or allowed them to die:

"We just covered, in one week, two mothers. One let her infant drown in the tub while she was on Café World. She said the child was independent and wanted 'alone time.' At 14 months? They do not want alone time in the bathtub. In the other case, the child was between 9 and 14 weeks. The baby, Dylan, was crying and the mom was on FishVille. The baby was crying and she hit the baby in the head with the computer and killed it."
Grace, being Nancy Grace, has no shortage of venom for these parents:
"May they both rot in hell is what I have to say about that. It's about child abuse, mistreating children . . . just the thought you would do that to a baby."
Grace says she's got no doubt using her nightly HLN show to shine light on these games–and the parents who choose them over their kids–may be ripe for mockery. But she says she's worried about it, and wants the issue to get attention.
Have a tip we should know? tips@mediaite.com