Chipotle, Gay Marriage, and the Partisan Divide in Cable News Hillary Coverage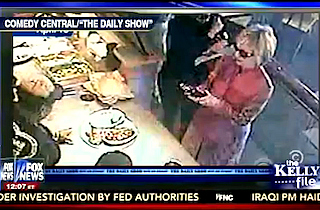 This morning your humble scribe performed a TVEyes search of the last 24 hours* of cable news coverage, fully expecting to discover that the news networks' third day of coverage of Hillary Clinton's Chipotle stop outpaced its coverage of her amended position on same-sex marriage, and to use that as clear evidence of a press corps obsessed with campaign frivolity over issues. The breaking-ness of an actual position switch next to the staleness of a never-important fast food stop set up a controlled experiment, albeit one generous to cable news.
Alas, you'll be happy to know that the cable news networks did actually devote more time, and more substance, to Clinton's position on gay marriage, though it was a close call. (Briefly: as revealed by the Washington Blade yesterday morning, Clinton called upon the Supreme Court to declare a nationwide right to same-sex marriage, a shift from her previous statement that its legality should be decided on a state basis; she also ordered a burrito bowl.)
More interesting was the partisan divide of the coverage. CNN and MSNBC had largely gotten over Chipotleghazi by yesterday afternoon; it received only cursory mention on CNN Thursday morning. Both networks devoted segments, whether news or commentary, to Clinton's position on same-sex marriage, with the lion's share of the coverage coming from MSNBC evening shows, including Rachel Maddow, All In, and Crossfire.
By contrast, Fox News did not mention Clinton's position switch on same-sex marriage at all. Its commentary hosts on The Five and Hannity continued to reference the Chipotle stop, though they did not devote full segments to it. Instead, "Chipotle," now a phenomenological event, was quickly woven into the anti-Clinton narrative as a metonym for either her inauthenticity or her lack of transparency.
Arguably, changing positions on a major issue via a quiet statement is better evidence for both. But it's also an example of the substantive policy statements Fox hosts decry Clinton's campaign for lacking. In fact, one of the Chipotle mentions on Fox last night came from the network's media reporter Howard Kurtz, who criticized Clinton's surreptitious dinner stop as part of her effort to skip the press and avoid talking about "issues." What issues would those be?
*The search was from Wednesday, April 15, 12:00 p.m., around the time the story broke, until Thursday, April 16, at 10:30 a.m., and was conducted using TVEyes.
[Image via screengrab]
——
>> Follow Evan McMurry (@evanmcmurry) on Twitter
Have a tip we should know? tips@mediaite.com