Chop Chop: The Five's Beckel Shares Somewhat Disturbing Suggestion For Weiner's Wife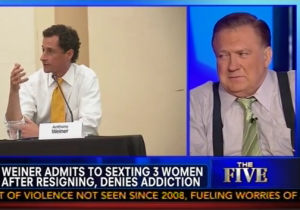 Anthony Weiner. Just the man's name is enough to stir amusement and/or anger into the hears of New Yorkers these days. The hosts of The Five today said this scandal is becoming less amusing by the day as Weiner continues to make a mockery of New York City and the mayoral race, but Bob Beckel really took the cake when he suggested that Huma Abedin, who has continued to stand by her man, might want to take a step out of the Lorena Bobbitt playbook and… er… put Weiner's weiner on the chopping block, as it were.
Bolling was very pessimistic about New Yorkers having the good sense to reject Weiner, predicting "I think he's gonna win." He explained that, regrettably, while the race should be all about trust, it's a "very forgiving place" and Weiner could be in it for the long haul.
Gutfeld was more interested in talking about Abedin, asking "Is Huma Arabic for 'doormat' or what?" He quipped that she and Weiner have "the fakest marriage since Hannity and Colmes."
And then Kimberly Guilfoyle asked Beckel for his take. Beckel's assessment was blunt.
"Have you ever heard the story about Lorena Bobbitt? Okay. That's my advice to her."
And just in case all the lack of subtlety here didn't already made it clear, Lorena Bobbitt got famous for chopping off her husband's penis. And threw it out the window of a moving car.
Thanks for the image, Bob.
Watch the video below, via Fox News:
Have a tip we should know? tips@mediaite.com
Josh Feldman - Senior Editor