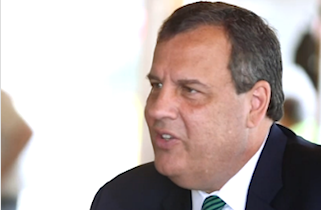 By almost any measure, Gov. Chris Christie (R-NJ) is still on the bubble of making it into the top ten candidates for Thursday's first GOP debate on Fox News. But in a new interview on Monday with CNBC's John Harwood, he said he's "not worried at all" about dropping below the necessary threshold.
As expected, the conversation did not get very far before Harwood brought up the "weird" things happening in the Republican presidential primary at this early stage, without specifically mentioning the name Donald Trump.
"It always is," Christie said. "You're telling me it wasn't this weird when Herman Cain was winning nationally four years ago or Michele Bachman was winning nationally? I mean, this happens."
Former Rep. Michele Bachmann took an early lead in GOP primary polls in July 2011 and later that year in October, Herman Cain was briefly on top. But by the first week of 2012, both candidates had dropped out of the race.
Christie, whose campaign slogan is "telling like it is," bristled at the suggestion that Trump is the "straight-talk" candidate in the race. "Donald's telling his version of the truth," the governor said. "Some people are feeling the pressure to try to be outrageous to get on the news, and that's why ideas are the most important thing in this, John. Not whether you're getting the most attention or not at any one particular time."
In the latest national poll to come out ahead of Thursday's debate, Trump remained in the lead with 19%, four points ahead of his nearest rival. Christie was tied at 3% with John Kasich and Rick Perry, only two of whom are likely to appear on Fox's primetime debate stage.
Watch video below, via CNBC:
[Photo via screengrab]
— —
>> Follow Matt Wilstein (@TheMattWilstein) on Twitter
Have a tip we should know? tips@mediaite.com