Chris Christie Convinces MSNBC's Mika Brzezinski He Is 'Huggable' With A Big 'Lovable' Squeeze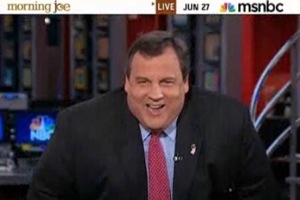 New Jersey Republican Governor Chris Christie appeared on Morning Joe and proved that he fully stands behind any claim he makes. Yesterday on Meet the Press, Christie said he was "huggable and lovable" and today when Mika Brzezinski wondered how truly huggable he was, Christie demonstrated with a warm embrace of Mika. Take that critics who say MSNBC doesn't show love to Republicans, here they are literally lovably hugging a Republican!
The money shot came at the end of a long fifteen minute segment and started off a bit shaky. Joe Scarborough, an admitted fan of Christie in the past, first asked why New Jersey's public schools aren't good enough for Christie's kids? The question of how Christie raised his children was something he previously suggested was off-limits, yet Christie answered the question quickly here and they moved on.
Christie touted his success at pension reform, which Scarborough was amazed by, given that so many other Republican governors had difficulty handling the issue and given that Christie's persona would seem to suggest he would be the least likely Republican to accept a compromise. Yet Christie responded, "people in the media often confuse bluntness with inflexibility. They're not mutually exclusive." Christie also was surprising with his extensive praise of New York Democratic Governor Andrew Cuomo who was doing a "great job" since "he gets in the room, he gets his hands dirty, and he gets it done." Unlike President Obama who, in Christie's opinion, was "failing on this debt and deficit crisis" because Joe Biden is in the room when it should really be Obama.
Yet in the end it was literally all hugs. After Mika confirmed Christie was in fact huggable, Christie humorously responded, "Eat your heart out America. It's great being the Governor of New Jersey baby!"
Watch the clip from MSNBC below:

Have a tip we should know? tips@mediaite.com