Gov. Chris Christie Gets Agitated Answering Viewer Question: 'It's None Of Your Business!'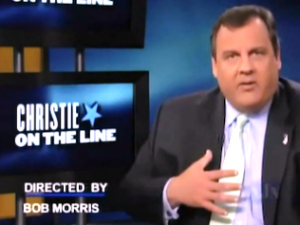 Recently, New Jersey Gov. Chris Christie sat down with Caucus NJ host Steve Adubato for a special live call-in show entitled Christie: On the Line and simulcast on various public television and radio stations throughout the state. It was a fun interview (although do we really need to hear about how he's not running for President again) but, right at the end, a video taped question from a constituant got him a little bit agitated.
The question came from a woman named Gail who asked why he was comfortable cutting so much money from public school when he sends his kids to unaffected private schools. Christie's didn't mince words in his response:
"Hey, Gail, you know what? First off, it's none of your business. I don't ask you where you send your kids to school, don't bother me about where I send mine. Secondly, I pay $38,000 a year in property taxes for a public school system, predominantly in Mendham, that my wife and I don't choose to utilize because we believe – we've decided as parents – that we believe a religious education should be part of our children's everyday education so we send our children to parochial school. Third, I as Governor, am responsible for every child in this state, not just my own, and the decisions I make are to try to improve educational opportunities of every child in this state. So, with all due respect, it's none of your business."
I have to say, he starts his response in an unnecessarily rude way. I mean, there really does seem to be a difference between focusing on where a Governor is sending his children to school and where some random lady is. That being said, it's a little fun, after such a long period of Jovial, Humble Christie, to see the Angry, Yelling Christie who was such a hit last year.
Watch the video via NJN below:
Have a tip we should know? tips@mediaite.com