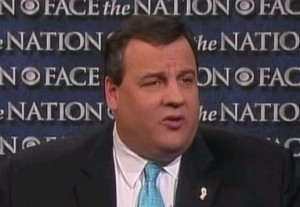 New Jersey Governor Chris Christie appeared on Face the Nation today to make the case for Mitt Romney ahead of Tuesday's critical primaries in Michigan and Arizona. He said that he fully expects Romney to win in Michigan, a state that the candidate has certainly been hard at work to win, but did not discount the possibility of Romney losing the state and the nominating convention in August would grow incredibly contentious with no candidate having enough delegates to safely claim the nomination.
RELATED: Jake Tapper: Republicans Who Believe A New Candidate Is Coming Also Believe In Santa Claus
Bob Schieffer asked Christie about the potential fallout in the GOP race if Romney loses Michigan to Rick Santorum. Schieffer brought up calls being made by Republicans to try and look for a new candidate should that happen, and asked Christie if, despite all of his early insistences that he has no interest in running, he might get back into the race after all.
Christie shot it down immediately, saying he wouldn't do that to Romney at this point in the campaign, especially considering Christie's endorsement of the GOP candidate. He didn't express that many doubts that Romney would lose Michigan (a prospect that seems less likely as Romney regains the lead over Santorum), but Christie cautioned that no matter what happens, this is an incredibly volatile race where anything could happen. Christie pointed to early successes in the polls by Michele Bachmann, Herman Cain, and Rick Perry, all of whom folded early in the race.
But Christie admitted that Romney losing Michigan could potentially lead to a brokered convention, while dismissing the possibility as unlikely. He predicted that when the Republican National Convention comes around in August, Romney will have enough delegates to easily claim the nomination and avoid a long, protracted fight within the GOP.
RELATED: Paul Ryan Shuts Down Idea Of New GOP Candidate: 'I Don't See How That Can Happen'
Christie also mentioned that he's not that interested in being Romney's vice presidential nominee, admitting his preference for governing New Jersey, but said he wouldn't entirely rule out the possibility of Romney approaching him about it.
Watch the video below, courtesy of CBS:
Have a tip we should know? tips@mediaite.com
Josh Feldman - Senior Editor