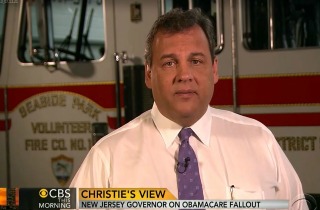 Appearing on CBS' This Morning on Tuesday on the one year anniversary of the day Hurricane Sandy slammed into the New Jersey coast, Gov. Chris Christie took a shot at President Barack Obama over the revelations accompanying the roll-out of the Affordable Care Act. Christie said that the president and his administration did not tell the American people the whole truth about scale of the ACA's impact on people's lives.

Anchor Norah O'Donnell began by revealing that, according to CBS News reporter Jan Crawford, of the 2 million people who have lost their current health insurance plans, 800,000 of whom live in New Jersey.
O'Donnell probed Chrisite over his decision not to establish a state-run health insurance exchange. She asked if he still thinks that decision was the correct one.
RELATED: Megyn Kelly Explodes at Dem Guest Over Obamacare: Don't Go to Your 'Happy Place,' Answer the Question!
"It wouldn't have made any difference, in fact," Christie said. "What the federal government wanted us to do in the states was to take on this burden ourselves without telling us how much it would cost or what authority we would have to actually run our exchanges."
"That's why myself and 33 other governors, Republican and Democrat, said no to a state-run exchange," he continued.
"The real problem is that people weren't told the truth," Christie added, pivoting to the White House. He said that the public was flatly told that they could keep their insurance plans if they liked them which is turning out not to be the case for millions.
"The White House needs to square that with what was told to the American people and told to the Congress beforehand," Christie concluded. "It doesn't seem to square at the moment."
Watch the clip below via CBS:
[Photo via screen grab ]
— —
> >Follow Noah Rothman (@NoahCRothman) on Twitter
Have a tip we should know? tips@mediaite.com