Chris Christie, On Being VP: Some People Are Good At Being Number 2, Some Are Better As Number 1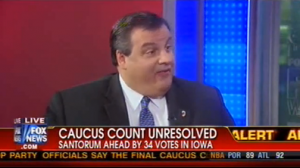 Chris Christie, who has been pretty much living on cable talk show sets this week, paid a visit to the folks at Fox & Friends Thursday morning, where the Romney supporter weighed in on what Rick Santorum's possible win in Iowa means for the race ("Nothing."), and what the future holds for Mitt Romney.
Christie was asked whether the Romney campaign grows upset whenever the New Jersey Governor offers public criticism about his candidate of choice, including telling Oprah Winfrey that Romney's greatest weakness is his inability to really connect with voters on an interpersonal level. But the campaign knows and understands, he said, that he's going to speak his mind, no matter what.
RELATED: Chris Christie Says Mitt Romney Should Release Tax Returns Now
Christie also stands by his opinion that Romney should release his tax records now, and not in April, but doesn't see the fact that he pays 15 percent on his taxes as a big deal, noting that Romney hasn't had a typical, income-producing job for some time now.
Christie also shrugged off Romney's negative campaign ads, saying it's simply part of the way the game is played and that, as long as the ads are fair (and true), it's all good in the proverbial 'hood. He thinks the ads put out by Newt Gingrich and his Super PAC about Bain Capital, however, are unfair because they don't contain truthful information.
RELATED:Mika Brzezinksi: Isn't Chris Christie Sounding Kind Of… Vice Presidential?
As for predictions that Romney would tap him as his running mate, Christie said he simply doesn't have the "personality" to be vice president. "I think, you know, certain people are good at being number 2," he said, "and certain people are being better at being number one."
Watch, via Fox News:
Have a tip we should know? tips@mediaite.com