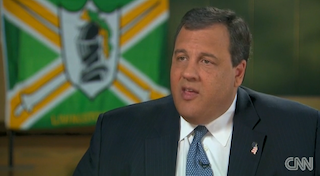 Clips have appeared online for Piers Morgan's interview with New Jersey Gov. Chris Christie which will air tonight. One clip features an interesting discussion of the scandal the Governor got embroiled in earlier this month when he took a state helicopter to his son's high school baseball game. Morgan pressed but Christie refused to admit that he'd done anything wrong, saying that he is "a father first."
The most interesting part came as Morgan, who admitted to admiring Christie but being "disappointed" by the story, pointed out that the Governor had given the money from the trip back to the state and argued that that seemed to be an admission of wrong doing. Morgan explained that it seemed like he was "trying to have it both ways," admitting it was wrong while saying he didn't regret it. Christie disagreed, claiming that the money was only about fighting perception.
"I'm not admitting it was wrong. What I'm saying is that, if the public perceives for a moment that I'm using that for a perk of office, I want to take that away from them right away. But I would not make a different decision if I had to do it again because it was important for me as a father to be there for my son."
Whether or not that's a strong case from Christie, the story seems to not have as much traction as it initially appeared. Helicopters are fun and all, but what's a scandal without genital pictures?
Watch the clip from CNN below:
Have a tip we should know? tips@mediaite.com