Chris Christie On This Week: No 'Concerted Effort' To Skew Polls Against Romney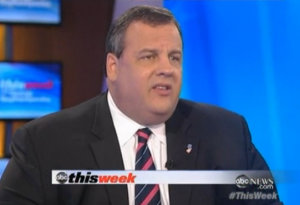 On ABC's This Week, New Jersey Gov. Chris Christie discussed the upcoming presidential debate, raising expectations for Mitt Romney to give a "big and bold" performance. Expressing his confidence in Romney, Christie also dismissed the notion of intentionally skewed polling.
George Stephanopoulos pointed to a recent column by Charles Krauthammer, which advised Romney to "go large." In it, he wrote:
For six months, he's been matching Obama small ball for small ball. A hit-and-run critique here, a slogan-of-the-week there. His only momentum came when he chose Paul Ryan and seemed ready to engage on the big stuff: Medicare, entitlements, tax reform, national solvency, a restructured welfare state. Yet he has since retreated to the small and safe.

When you're behind, however, safe is fatal. Even his counterpunching has gone miniature. Obama has successfully painted Romney as an out-of-touch, unfeeling plutocrat whose only interest is to cut taxes for the rich. Romney has complained in interviews that it's not true.
"Do we need a bigger, bolder campaign from Mitt Romney?" Stephanopoulos asked.
"I think what he need is a big and bold performance on Wednesday night," Christie replied. "And that's what he's gonna give us. I have absolute confidence in that."
The ideas have been there, he said, but there's "been a lot of filtering" going on. "I'm not going to sit here and complain about coverage of the campaign because, as a candidate, if you do that you're losing. But what I will tell you that this is the first moment when the American people are going to see these two guys side by side laying out their vision unfiltered. I think that's going to be a powerful moment for Mitt Romney. And I think folks like Charles Krauthammer will be happy on Thursday morning, certainly happier than they are now.
Asked whether he believes the polls have been skewed against Romney, Christie replied, "I don't buy that." Polls are inherently imperfect, he said, but there's no "concerted effort to skew the polls against Mitt Romney."
Take a look, via ABC:

Have a tip we should know? tips@mediaite.com