Chris Christie Praises Obama's Hurricane Response: 'I Cannot Thank The President Enough'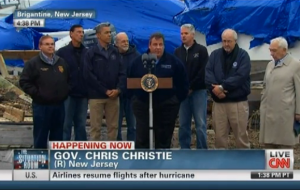 President Barack Obama visited New Jersey Gov. Chris Christie on Wednesday in the wake of Hurricane Sandy. Having toured some of the state's devastation, Obama reiterated his support for relief efforts in joint remarks with the governor in Brigantine, NJ.
Christie spoke about the afternoon he spent with the president, during which they both surveyed the storm's damage up and down New Jersey's coastline. Putting particular emphasis on the need to restore power and ensure residents have clean drinking water, Christie was praised the president for his help thus far.
Obama "has sprung into action immediately," Christie said. "He has worked incredibly closely with me since before the storm hit. I think this is our sixth conversation since the weekend. It's been a great working relationship."
"I cannot thank the president enough for his personal concern and compassion for our state and for the people of our state," he added.
The governor went on to speak about the challenging recovery ahead. Acknowledging the "sorrow," he noted the fortunately low number of fatalities, later going on to stress the state's resilience.
Christie handed the podium over to the president, who offered a similar message of empathy and hope.
Christie has been "responsive" and "aggressive," Obama said, adding that New Jerseyans recognize "that he's put his heart and soul into making the people of New Jersey bounce back even stronger than before." He went on to thank him for his "extraordinary leadership and partnership."
The president also offered condolences for those who lost loved ones, and praised FEMA and first responders for their role in disaster relief.
He offered a message to those affected: "We are here for you. We will follow up to make sure that you get all the help that you need to rebuild. We will not forget."
Both Obama and Christie reiterated that they're doing everything they can to restore normalcy and help those in need, but asked for patience, noting it simply can't be done overnight.
The remarks from both Christie and Obama, below:

Have a tip we should know? tips@mediaite.com