Chris Christie Says No Regrets About Post-Sandy Obama Embrace, Praises: He's 'Kept Every Promise'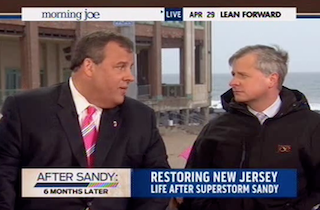 Gov. Chris Christie caused quite a stir in the aftermath of Hurricane Sandy when he literally and figuratively embraced President Obama, not long before election day. As Morning Joe devoted the show to Sandy recovery on Monday, the crew spoke to Christie who said he had no regrets about the matter. He further praised Obama for keeping all every promise he made about relief efforts.
Earlier in the show, Joe Scarborough asked Christie to respond to his "far right" critics, questioning whether he had any regrets about his famous embrace. The governor said he didn't because, in the wake of a disaster, presidential politics aren't priority.
A few minutes later, Jon Meacham revisited the topic. "One of the reasons you came under fire from Republicans, very partisan Republicans, was the buddy embrace with Obama in the hour of crisis," he recalled. "How has the president and White House been since then?"
"The president has kept every promise that he made," Christie replied.
"Everybody knows that I have about 95 percent level of disagreement with Barack Obama on issues of principle and philosophy, but the fact is, we have a job to do," he added. Voters hate Washington because many politicians care more about arguing and being right, Christie asserted, instead of getting anything done. He faulted both Congress and the president.
"We stepped up and were responsible together," he continued. "Since that time, I have to say, everything they promised they would do, they have done — and so I don't have any complaints or arguments with them this morning on the issue of Sandy relief."
Take a look, via MSNBC:

Have a tip we should know? tips@mediaite.com