Chris Christie Says Romney Will Give 'Big And Bold' Debate Performance That'll 'Shake Things Up'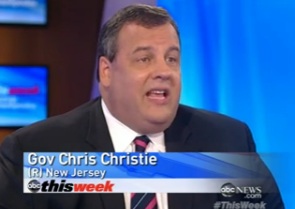 In an ordinary campaign, New Jersey Gov. Chris Christie would easily be the worst surrogate, but in the disastrous Mitt Romney campaign, he's got to settle for being the star defensive infielder of going off-message, the Mark Belanger of blowing it. In Sunday show appearances this weekend alone, Christie torpedoed Team Romney's delusional poll denial, their media bias narrative, and after both campaigns spent the week tamping down expectations for Wednesday night's first presidential debate, Gov. Christie pulled a Joe Namath, telling This Week's George Stephanopoulos to expect big things from Romney.
Stephanopoulos began by asking Gov. Christie, "Governor Romney has to shake things up Wednesday night, doesn't he?"
"He's going to," Christie replied, adding what has become a popular Democratic talking point this week, Romney's performance during the primary debates. "I mean, every time Mitt Romney has been confronted in this campaign with one of these moments, he has come through in the debate and performing extraordinarily well, laying out his vision very clearly, and also contrasting himself and his vision with whoever his opponent was at that time. So I have absolute confidence that, when we get to Thursday morning, George, all you're going to be shaking your head, saying it's a brand-new race with 33 days to go."
Thanks to this idiotic (on both sides) expectations game, Romney's primary debates have taken on mythical status, but he made a lot of high profile mistakes in them, and even at face value, the boast is a bit like assessing Chuck Wepner's boxing record against malnourished babies.
Christie went on to abandon any attempt at ramping up expectations for the President. Stephanopoulos asked "How do you handicap President Obama as a debater?"
" He's — he's good," Christie responded. "Listen — and I love all this stuff. I heard Ed Rendell the other day say, oh, he hasn't debated in four years. Poor President Obama. He's only been leader of the free world and commander-in-chief of our military during that time. I think he's had a few debates inside the White House over time. And I think he'll be very good. The president's always been good, and he'll be good on Wednesday night."
Finally, George asked "Do we need a bigger, bolder campaign from Mitt Romney?
"Well, I think what we need is a big and bold performance on Wednesday night,"Christie responded, "and that's what he's going to give us. Got absolute confidence in that."
Gov. Christie's appeal, such as it is, rests with the perception that he's "keeping it real," an image that he has consistently burnished at the expense of the Romney campaign's messaging. He's right that Romney needs a big debate performance, and he's right that the President isn't the underdog some flacks have made him out to be this week, but Romney's performances at the GOP debates are not the blueprint he ought to be using.
Here's the clip, from ABC News' This Week:
Follow Tommy Christopher (@TommyXtopher) on Twitter.
Have a tip we should know? [email protected]